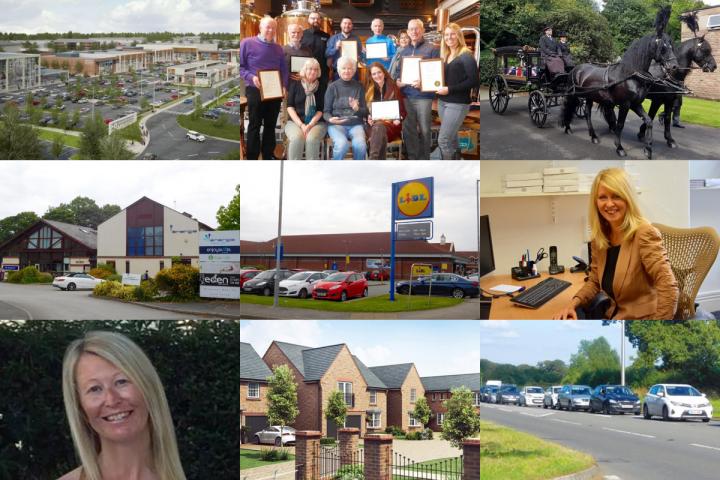 With 2017 having drawn to a close it is time to take a look back at the biggest news stories of the past twelve months in Wilmslow and share some statistics with our readers.
During 2017 the wilmslow.co.uk website has been visited 1,011,346 times and generated 2,109,499 page views!
Over the course of the year I've managed to publish 1056 articles which have received 3607 reader comments.
The year kicked off with a consultation from Cheshire East Council is currently on its Pre-Budget document, setting out proposals to save £94m and balance the books during the three year period from 2017 to 2020. In addition to proposals to cut costs, the report contains new infrastructure projects, including a proposal to spend £1.2m improving the Alderley Road and A34 junction.
January also saw Cheshire East Council abandon their scheme to change to the layout of the road system in the Knutsford Road area, instead they decided to install a 20mph zone along a section of Knutsford Road and Upcast Lane.
Plans were also submitted for the first residential development of 74 homes at Alderley Park, the former AstraZeneca campus and controversial plans to create the North Cheshire Garden Village, with 1650 new homes, on the eastern edge of Handforth was given government backing.
As part of the process to create a Wilmslow Neighbourhood Plan, local residents made it clear that they would very much welcome a redesign of the town centre which they criticised for lacking a heart, being divided by main roads and lacking a meeting place. Whilst plans to create a community venue in the Rectory Stables, one of the town's oldest buildings, were unsuccessful, instead Cheshire East Council agreed to lease the derelict historic building to a Stockport-based construction company.
In February, the Government consulted on plans to close Wilmslow Jobcentre and transfer the service to Macclesfield Jobcentre, located 7.7 miles away - as part of the Department of Work and Pensions plans to reform the service in order to save around £180 million a year for the next 10 years.
February also saw Cheshire East Council backtrack on their decision to remove the North Cheshire Garden Village from the emerging Handforth Neighbourhood Plan, following a legal challenge, and a new £85,000 skatepark opened in Stanley Hall Park in Handforth - replacing the former skatepark which had deteriorated over the years.
In March, due to high demand, an additional 26 places were made available at Wilmslow High School so there were 326 places available for September 2017 intake. Also, the groundworks got underway to accommodate the new £108,000 public toilet block at the Carrs, which opened in the summer.
In the same month Tatton MP George Osborne was announced as the new editor of the Evening Standard, taking up his role in early May, then in April he declared he was quitting as MP ahead of snap election - having been elected in June 2001.
April also saw Cheshire East Council suspend their Chief Executive Mike Suarez. This was followed by the suspension of Bill Norman, Director of Legal Services and Monitoring Officer in July - while an investigation into allegations relating to their conduct is undertaken. Bill Norman tendered his resignation with immediate effect in December.
Following the announcement that the Stagecoach 378 service will no longer operate in Cheshire East from April 23rd as it will terminate on the Stockport border, D&G Bus decided to launch a new commercial service from Wilmslow Station to Bank Square, Lacey Green and up Manchester Road to Handforth and Spath Lane. However, this was terminated after just 12 weeks as not enough passengers were using it.
In April, discount supermarket chain Lidl confirmed plans to demolish a local gym and their existing store so they can replace it with a new store which is nearly 50% bigger. The decision on this controversial planning application is still not determined as it was deferred by the Northern Planning Committee in December.
Wilmslow Business Group also decided to disband their events team, as they have been unable to secure the necessary funding from the business community to deliver their plan, which meant the end of the road for the Wilmslow Motor Show.
May saw the start of months of long delays for motorists travelling on the A538 as roadworks were introduced to enable new lighting to be installed in the four runway tunnels and the walls repainted. The project was scheduled to finish in September but was delayed until November due to a van fire in the tunnels which occurred in February.
In the same month, it was announced that the opening of the new £290 million A6 to Manchester Airport Relief Road has been delayed due to heavy rainfall. The 10km dual carriageway which was due to open to traffic by autumn 2017, after two and a half years of construction works, is now programmed to be opened in spring 2018. Last time I checked in August, the Communications and Marketing officer at Stockport Council said "I can confirm that the A6 to Manchester Airport Relief Road is still scheduled to open in spring 2018."
Handforth Retail Park is set to get a lot bigger following the Strategic Planning Board's approval of three applications. Alderley Edge based developer Consolidated Property Group (CPG) was given permission for the second and third phases of their Handforth Dean Shopping Park which will involve approximately 25 retail units and create about 950 jobs. CPGs third application for an extension to the recently constructed Next store (which CPG sold the previous week for £15.8m), Phase 1 of the £160 million scheme, was also approved.
However, Cheshire Lakes' plans to create a watersports and outdoor activity centre at a former quarry in Chelford were considered by the Strategic Planning Board for the fourth time and refused because it was considered they would have a detrimental impact on biodiversity at the site and in particular on the birdlife.
Hundreds of people turned out to pay their respects and say farewell to a 96-year-old World War II veteran Harry Wheeler from Wilmslow who passed away with no family to mourn him and at the end of the month hundreds of local residents of all ages and faiths came together in Wilmslow and Handforth to show solidarity with Manchester and remember the 22 victims of the Manchester Arena bombing.
In June controversial plans to create a 24 hour gymnasium in Wilmslow town centre were given the go ahead. North West Leisure were granted permission for an Anytime Fitness gym will occupy the ground floor and the first floor level of 52 Parsonage Green, previously a sports bar, though work is yet to commence on the conversion.
Esther McVey, the former Employment Minister, was elected as the new MP for Tatton with 58.6% of the vote in June's General Election and in September she opened her constituency office on Chapel Lane.
Due to the poor weather, organisers postponed this year's Cinema on the Carrs event - moving it to September when unfortunately attendance was poor with only a couple of hundred hardy folk braving the rain. Despite being poorly attended, as a result of the bad weather, Wilmslow Town Council announced in October that the event will return in 2018.
June also saw the start of the 8th Wilmslow Scarecrow Festival which once again brought colour and fun to the town centre with many businesses choosing to adopt this year's movie theme.
In July, a new £21,000 outdoor gym was installed in The Carrs park which includes a variety of exercise machines for the use of anyone over the age of 14.
Plans to build a hand car wash and valet service on a previously developed site on Alderley Road were refused by the Northern Planning Committee despite the planning officer recommending them for approval. An appeal has since been lodged against Cheshire East Council's refusal to grant planning permission.
Shines has appealed to the Planning Inspectorate over the committee's refusal of their plans for two car wash bays - consisting of a spraying area and a valeting area - at the site of the former Kings Arms Service Station on Alderley Road in Wilmslow.
Whilst plans to demolish The Riflemans Arms on Moor Lane and replace it with a residential development of 8 dwellings were approved.
The 105th Wilmslow Show was bathed in sunshine when thousands of residents and visitors made their way to the new venue at Carnival Field. In November, Wilmslow Town Council agreed to continue to support the Wilmslow Show and provide a grant of £10,000 to enable the 106th show to be held next year at its new venue.
A local NHS surgeon was chosen by members to join Wilmslow Town Council to represent the Lacey Green ward. Dr Chetan Katre previously stood as a candidate for the Wilmslow East ward in August 2016 when voters chose Mark Goldsmith (Residents of Wilmslow) to represent them.
July also saw the start of a £1.7m upgrade to the local power network. Engineers from Electricity North West replaced 5km of underground electricity cables between Alderley Edge and Wilmslow which involved a series of temporary traffic lights and road closures in the town centre - including the 12 week closure of Styal Road from September.
Having been granted planning permission in 2016 for a new office development at their Alderley Road campus, Royal London submitted an application detailing the scale, layout, appearance and landscaping proposals for the site in August of this year.
In September, Cllr David Brown, Deputy Leader of Cheshire East Council announced his decision to stand aside from his cabinet duties for the time being - the day after Cheshire Constabulary confirmed it is looking into concerns about the Council's allocation of public funds in making a £70,000 grant to Berkeley Academy in Wistaston for a car park. In October the Council Leader decided David Brown must also resign from his role as deputy leader with immediate effect.
In the same month Cheshire Constabulary confirmed they were launching a formal investigation into allegations that Cheshire East Council deliberately manipulated air quality data after an external investigation into the Council's air quality monitoring procedures earlier in the year found that serious errors were made as a "result of deliberate and systematic manipulation of data".
On Friday 29th September the body of Leanne McKie, a Wilmslow mother of three, was found in a lake at Poynton Park. Leanne, 39, served with Greater Manchester Police since 2001, working in the Serious Sexual Offences Unit. Her husband Darren McKie was subsequently charged with murder and a provisional trial date has been set for March 5th 2018.
The 4th Wilmslow Art Trail proved to be a big draw at the beginning of October, with hundreds of visitors following the trail and visiting the participating artists.
In October The Boundary Commission for England (BCE) published proposals for new Parliamentary constituency boundaries following a decision by Parliament to reduce the number of constituencies in the UK to 600 from 650.
The revised proposals will see Wilmslow, Alderley Edge, Handforth and Styal in a new constituency with Bramhall, Woodford and Hazel Grove called Hazel Grove and Wilmslow constituency. Whilst Nether Alderley and Mottram St Andrew would be in the Macclesfield constituency which stretches to Plumley in the west, north to Poynton and Disley and south to Wincle and Eaton. Knutsford, Hale Barns, Mobberley, Pickmere, High Legh and Little Bollington would be in the new Altrincham and Knutsford constituency.
In the same month a controversial planning application for a new residential development of up to 250 homes on land between Clay Lane and Sagars Road, which resulted in nearly 400 letters of objection, was approved.
Despite having been granted planning permission in 2016 for a new office development at their Alderley Road campus, Royal London Group confirmed that it is moving out of Wilmslow in October, with the favoured location being the Parklands building at Alderley Park.
The following month Royal London submitted two planning applications for homes at its site on Alderley Road. The first application is for up to 60 homes on land opposite the Royal London Campus to the west of Alderley Road and the second is for 120 homes on the northern part of the campus site.
At the beginning of November we received the tragic news that an 85-year-old man and 82-year-old woman, from Newcastle-under-Lyme, had both died in a road traffic collision on the Alderley Edge bypass. This resulted in local councillors proposing a reduction of the speed limit on this stretch of road to 50mph.
Cuts to local bus services were confirmed in November, to achieve savings of just over £1m. Changes to local services include the 88 (Altrincham – Wilmslow – Knutsford) service reduced to an hourly service and extended to go to Macclesfield (once every two hours) and alternately to Northwich. Whilst the 200 (Wilmslow – Manchester Airport) service will be withdrawn with an hourly railway service from Styal Railway Station introduced in May 2018 and the Sunday service of the 130 (Macclesfield to Wilmslow to Manchester) will be withdrawn.
On a brighter note, Wilmslow scooped their largest haul of awards and accolades from the North West In Bloom judges with no fewer than seven awards. Firstly three 'It's Your Neighbourhood' awards went to Wilmslow groups. The Friends of the Carrs achieved the top tier of 'Outstanding, whilst the Chapel Lane Business Group and Transition Wilmslow were both awarded the 'Thriving' tier for their work on Chapel Lane and in The Temp.
To cap this recognition, the work of the Clean Team was rewarded with a Highly Commended certificate to acknowledge the contribution they make to the general appearance of the town and a Gold medal award went to the Wilmslow Brew House and Kitchen in the Small Accommodation category.
Additionally, not only did Wilmslow win a fourth Gold Award in the Best Large Town category, in their fifth year of entry, but they also achieved the Pride of Cheshire East Award – a prize made at the discretion of the Judges among every town entry in east Cheshire.
At the end of November Wilmslow Leisure Limited, operators of the energie Fitness Club at Summerfields Village, announced to club members their intention to permanently close the club on New Year's Eve.
The year ended with the controversial planning application for a new residential development on land north of Stanneylands Road being approved despite the council receiving 815 letters objecting to the scheme located on land that was released from the Green Belt following adoption of the Cheshire East Local Plan.
Additionally, Elan Homes submitted plans for a new residential development of 14 homes at Yew Tree Farm, which is located within the North Cheshire Green Belt on Moor Lane, and Taylor Wimpey submitted a planning application for 161 homes at Heathfield Farm off Dean Row Road in Wilmslow - a previously undeveloped greenfield site that was released from the Green Belt following the adoption of the Cheshire East Local Plan.
Also in December, Cheshire East Council decided to suspend their Chief Operating Officer Peter Bates following concerns about his conduct.
2017 also saw a lot of changes to the businesses and shops in the town centre. Zumu Sushi opened at Bank Square, in the premises which had been empty since The Goal Post sports shop closed in 2016 and a hearing clinic opened on Church Street in the premises previously occupied by My Next Place estate agents.
In April, Tanya Bardsley, star of The Real Housewives of Cheshire, opened her first boutique on Grove Street selling her jewellery range along with candles, perfumes and greetings cards. In May Simon & Simon, a new menswear shop, opened on Grove Street - but will be closing shortly - and Cafe Azul opened in The Carrs park in September, occupying the kiosk adjacent to the new public toilets.
Wood Fire Smoke, a neapolitan pizzeria opened its doors on Water Lane in October. Argos returned to Wilmslow, having closed their Alderley Road in January 2012 after 37 years of trading in the town, and opened a store in Sainsbury's at the end of November and MobiTechs Phones and Computers opened in the Grove Arcade.
Closures in the town included the Boots pharmacy in Waitrose and The Hidden Jem - clothing, accessories and home interiors store - closed after trading in the town centre for two and a half years.
Chocolates Etc on Water Lane, which opened in December 2015 closed after 15 months, Fat Face closed their Wilmslow store on Alderley Road after 15 years and, having fallen into administration, Jaeger also closed its Wilmslow store making nine people redundant.
Additionally, independent children's hair salon Little BigHeads closed their Wilmslow branch in September and family run cafe Cook & Baker closed its door after trading on Alderley Road for four and a half years.
Whilst Wardrobe, a long-standing Wilmslow clothes shop, relocated from St Ann's Parade to Alderley Road, to occupy the unit which was previously housed Hoopers' menswear department and the Benetton children's store re-opened on Water Lane.
Most read articles of 2017
1. Husband charged with the murder of Wilmslow mother of three
2. Government gives green light to Handforth Garden Village
3. Alderley Edge bypass reopens following accident
4. General Election 2017: Esther McVey wins Tatton seat
5. Two people killed in Alderley Edge bypass crash
6. Cheshire housewife opens Wilmslow boutique
7. Driver tests positive for drugs following serious accident on A34
8. Discount supermarket chain sets its sights on Wilmslow
9. Man suffers serious injuries after early hours assault
10. Community urged to attend funeral of 96-year-old war vet who dies with no family
11. Lidl confirm plans for 50% larger 'more modern' store
12. Plans to demolish pub to make way for eight houses
13. Local man found with head injuries
14. Expect more delays on A34 as one way system introduced nearby
15. More delays expected as Styal Road to close for 12 weeks
16. Green light for 250 new homes
17. Plans for new licensed venue in town centre
18. Plea for return of town's cinema
19. £17m power network upgrade will mean summer of roadworks
20. Cheshire housewife's charity ball will go ahead
21. Discount retailer says gym it plans to demolish is surplus to requirements
22. Real Housewife to help switch on Wilmslow Christmas lights
23. Value retailer bringing new concept to Wilmslow
24. Controlled explosion to be carried out in Wilmslow
25. How many more people will lose their lives before something is done
I would like to publicly thank those local businesses who have booked our annual visibility packages and kindly allocated some of their marketing spend to our local independent business, enabling them to promote themselves, their activities and their events throughout the year.
Without the support of the following it really would not have been possible for us to continue to provide this free service to the community: Bupa Care Homes, Orbit Developments, Aldeli, Alderley Edge School for Girls, Alderley Pilates, Chafes, Highams, Kimble Roden Architects (who celebrated 5 years in business together in 2017) Physiofit, and The Ryleys - all of which are featured in our advertisers directory.
We were also delighted that Waters Corporation chose to support the service we provide to the community by sponsoring our weekly newsletter for the fifth year running.
I run both wilmslow.co.uk and alderleyedge.com singlehandedly which is a full time job, my only source of income is from advertising so if any other local businesses would like to promote themselves via wilmslow.co.uk and alderleyedge.com and support their independent local media please do get in touch at admin@wilmslow.co.uk.
If you don't yet receive our weekly newsletters all you need to do is register on the site, it's free and only take a minute. Please do tell your local family, friends and collegues about this free service. Also please remember the weekly newsletter is only a summary, we are publishing the latest news as it happens on a daily basis on wilmslow.co.uk so do come back and visit regularly.
Share your highs and lows of life in Wilmslow in 2017, and your predictions for the new year in Wilmslow via the comment box below.
Thank you very much for taking the time to read wilmslow.co.uk, wishing you all a happy, healthy and prosperous 2018.