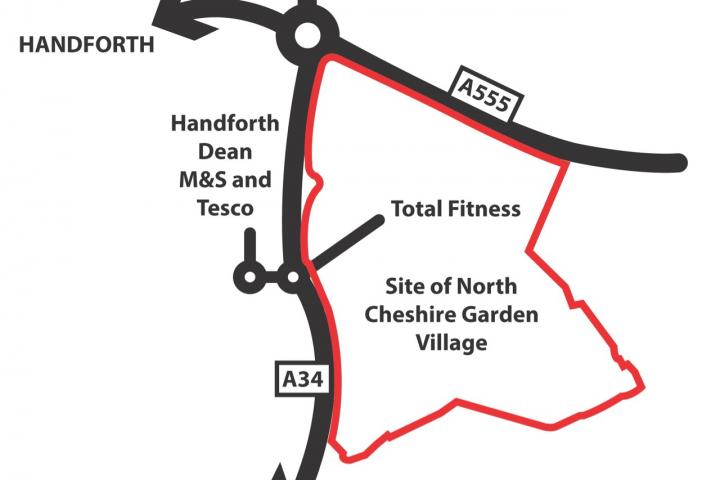 Plans to create a new garden village on the eastern edge of Handforth have been given government backing today (Monday, 2nd January).
The North Cheshire Garden Village is one of 14 new garden villages (smaller settlements of between 1,500 and 10,000 homes) – from Devon to Derbyshire, Cornwall to Cumbria – which will have access to a £6 million fund over the next two financial years to support the delivery of these new projects.
The government says the money will be used to unlock the full capacity of sites, providing funding for additional resources and expertise to accelerate development and avoid delays.
The controversial scheme for 1650 new homes includes schools, health facilities, nurseries, community centres, play areas and sports facilities along with space for new businesses, including shops and cafes. The Cheshire East Local Plan also includes 14ha of land south of the Growth Village which is proposed for safeguarding – for development after 2030.
Cheshire East Council's Development Company, Engine of the North is promoting the new residential and community development which will be located near to Handforth Dean, between the A555 and the A34, and commissioned Hemingway Design to produce a 'vision' document for the village.
Councillor Jamie Macrae, Chairman of Engine of the North said: "The North Cheshire Garden Village could be an exemplar development for the area and back in March we began to discuss with the community the design quality of the proposals. We are really keen to engage as many local people as possible in the debate and really want to know what your views are in shaping the proposal."
Councillor Macrae added: "Our ambition is to create a new innovative approach to residential development creating sustainable communities within a quality environment. We also wish to ensure that any development complements the existing surrounding communities."
However, many locals have raised concerns that the creation of a new village at this site will put a big strain on local infrastructure and increase congestion on the A34 bypass.
Housing and Planning Minister Gavin Barwell said "Locally-led garden towns and villages have enormous potential to deliver the homes that communities need.
"New communities not only deliver homes, they also bring new jobs and facilities and a big boost to local economies. These places combined could provide almost 200,000 homes."
In addition to funding, the government says it will provide support in terms of expertise, brokerage and offer of new planning freedoms.
The new garden projects will also have access to infrastructure funding programmes across government, such as the new £2.3 billion Housing Infrastructure Fund announced at this year's Autumn Statement.