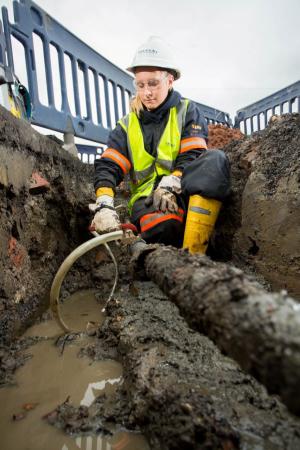 More than 22,000 homes and business in Wilmslow, Handforth, Chelford and Alderley Edge are set to benefit from a £1.7m upgrade to the local power network.
Engineers from Electricity North West, the region's power network operator, are replacing 5km of underground electricity cables between Alderley Edge and Wilmslow.
The project, which will start on the 24th July, will replace faulted oil-filled cables which have been in place for around 60 years, with new environmentally-friendly and efficient cables.
John Pietsch, South Operations Transmission Manager, for Electricity North West, said: "We're proud to be investing almost £2m in the local community to ensure 22,000 customers, including Styal Prison and Quarry Bank Mill, enjoy a reliable supply of power which we all take for granted every day.
"Power cuts are thankfully rare, but as these cables were first installed in the 1960s it's vital we upgrade them now and replace a faulty cable, so we continue to deliver an excellent, safe and affordable service to all our customers across the region.
"It's an investment of around £1 per property per year to keep power flowing for at least another 60 years, so it's great to be delivering such value for such an essential service to the local area."
The work, which has been agreed by Cheshire East Council, will start on the 24th July and take approximately 17 weeks. Work has been scheduled to take place during the school summer holidays to try and minimise the impact for motorists and residents.
Updated: Monday 24th July - Temporary traffic lights and road closures will be in place to allow engineers to safely carry out the work and diversions will be signposted. The first announced closure is Styal Road in WIlmslow which will now be closed from August 7th for 12 weeks.
See the Cheshire East Council's website for more information regarding road closures and planned works.
Tags: