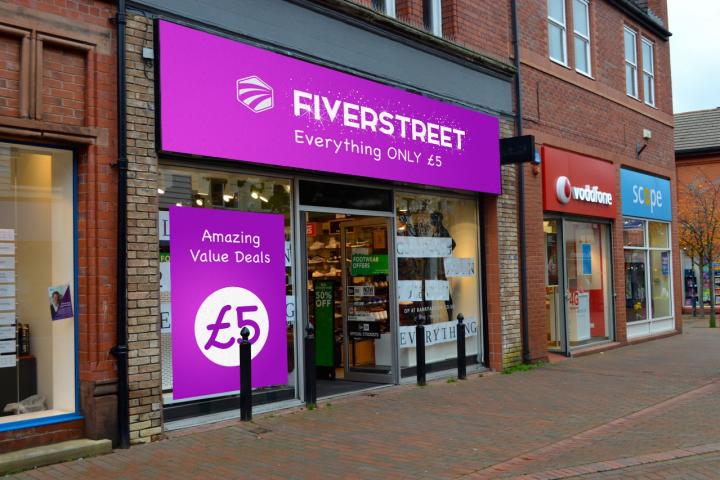 A prominent retail unit which has been empty for over three years is set to be taken over by a national chain.
We can exclusively reveal the Grove Street unit, which was previously occupied by BANK women and men's clothing chain, until their closure in October 2013, has been leased to Poundstreet.
Following on from the success of The Works, which opened in August 2015, the second discount retailer has identified Grove Street as an ideal location.
Business for Poundstreet has boomed in recent years, resulting in their intention to expand with the opening of 20 new stores this year under a new brand.
The company has selected 20 of the most sought-after places to live in the UK to launch their new Fiverstreet stores - where, as the name suggests, everything will be priced £5 rather than the usual £1.
The first of which will be in Alderley Edge, opening later this month, with others planned for Beaconsfield in Buckinghamshire, Ascot, Harpenden in Hertfordshire and Sevenoaks in Kent.
Avril Fous-Blague, spokeswoman for Poundstreet, said "Our aim is to have 1000 stores across the UK, in the past four years we have opened 237 new stores and the launch of 20 Fiverstreet stores is an exciting development for the company."
She added "This unit is in an excellent prime retail position within the affluent town of Wilmslow which meant it provided us with the perfect opportunity to launch one of our first Fiverstreet store.
"With so much wealth in this area we are confident that residents will easily be able afford our more premium products which will still provide incredible value for money."
Councillor Rod Menlove commented "I am delighted that a national chain has chosen Wilmslow as the location for one of its first Fiverstreet stores. I am sure it will prove very popular with local residents many of whom have expressed concern about the number of empty units in the town centre.
"Hopefully this will encourage additional retailers to Wilmslow and encourage more shoppers back into the town centre.
"I wish Fiverstreet ever success with their new venture, I will certainly be a regular shopper there.
"Surely this news will receive vocal support from those so opposed to out of town developments."
It has been confirmed that Fiverstreet intend to lay artificial grass on the pavement in front of the store in order to promote their house and garden range of products.
Councillor Menlove added "Clearly this will need planning permission, but I think it a fantastic idea. Grove Street needs revitalising and maybe the answer is 100% artificial grass to create a boulevard. We could then reconsider the canopy proposal that with new seating would give us the leisure, social and retail focal point that our town currently lacks."
Poundstreet will pay £40,000 per annum in rent for the Grove Street premises but the 20 new Fiverstreet stores will benefit from business rate relief, as charity shops do, enabling them to pay landlords the higher rents demanded in the more salubrious areas.
Refurbishment work will start next week to enable the shop to open towards the end of the month.To celebrate their opening Fiverstreet will be holding a grand sale for the first week where everything will be reduced to £4.
UPDATE (12:00): Thanks for reading my April Fool, I might not have managed to fool many people but hopefully it brought a smile to your face.
For some more April Fools fun check out our previous articles by clicking here.
Tags: