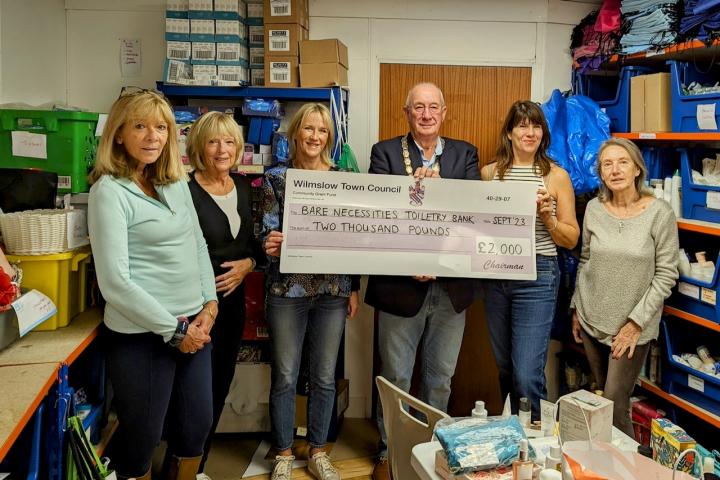 Wilmslow Town Council has awarded a Community Grant of £2,000 to Bare Necessities Toiletry Bank.
Bare Necessities Toiletry Bank is a Wilmslow-based registered charitable trust who collect and distribute toiletry packs to 32 charities and organisations, whose clients live in poverty, each month.
Within Wilmslow, Bare Necessities support FoodFriend at St Bartholomew's Church, Wilmslow Youth, Wilmslow High School, Oakenclough Family Hub and other charities which benefit Wilmslow residents, such as the 'Cheshire Without Abuse' Refuge.
The grant from Wilmslow Town Council will allow Bare Necessities to continue helping local people who are struggling with hygiene poverty, by funding the purchase of toiletries – such as toothpaste, shampoo and soap – to top-up items donated at local collection points.
Councillor Jon Newell, Chair of Wilmslow Town Council, said, "Bare Necessities Toiletry Bank make a big difference to the lives of those who are struggling to afford basic hygiene essentials, which many of us may take for granted. It is a pleasure to be able to help them continue their vital work within the local community."
Photo: Wilmslow Town Council Chair, Councillor Jon Newell, with Bare Necessities Founder and Chair, Wendy Hobson and volunteers in the Bare Necessities hub.