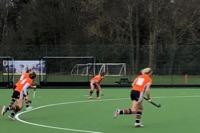 Wilmslow Ladies 1st 1 Lindum Ladies 1st 0
This was a dour affair between two mid table sides.
The tangerine defence coped well with a constant battering from the ladies from Lincoln, with Cat Lang steadfast in goal and Kelman sisters Hannah and Emilie kept particularly busy.
At the other end promising youngster Amelia Poole played with skill and aggression and Hannah Coulson caused the visitors problems with her pace
Wilmslow, however, were kept in the game by the tireless midfield play of Lily Harrison.
As the game wore on the crowd were beginning to settle for a scoreless draw when from a breakaway, leading goalscorer Lindsay Rachubka netted to take the points
Ladies 2s lost to Lymm 2s 1-2, but the ladies 3s left it late to score twice to beat Sale 2s.
Ladies 4s travelled to Wales to take on Northop Hall 2s and went down 2-3. Northop now swap places with the tangerines who drop to third.
Ladies 5s had the best result of the day putting 7 past Triton 3s without reply
Newcastle University 1st 1 Wilmslow Mens 1st 3
Newcastle had looked to be one of Wilmslow's main promotion contenders with probably the fastest team in the division. The tangerines, however, have been steadily improving and have played with much more self-belief on their travels
The first half was a tense affair with no clear cut chances for either team. Wilmslow started slowly and it looked like Newcastle's counter attacking approach would cause Wilmslow problems but neither team could create a good opportunity to break the deadlock. Newcastle finished the half with some intense pressure but without having a clear sight of goal.
The second half started in the same fashion, but Newcastle took advantage of a rare short corner to take the lead.
Wilmslow sprung into life and Martin Wright despatched a short corner into the bottom corner to level the scores. Newcastle applied the pressure in response, but a breakaway goal finished by Jack Wright turned the game around to give Wilmslow the lead with only 5 minutes left.
Wilmslow scored again on the counter to seal the win when Joe Booth finished calmly after a 3 on 1.
The tangerines have now accumulated a 13 point lead over third place
A depleted Wilmslow 2nd team went down 2-3 to Triton 1s.
The 3s had a major task playing against high-flying Warrington 1st and went down 0-4 away.
The 4s are currently in a rich vein of form and beat Alderley 6s 4-0 away to move further up the table.
In the last game of the day the 5ths played some excellent hockey and took the lead against Bowdon 7s. Unfortunately the more experienced visitors scored two late goals to take the points.
Match report by Steve Kinsella.
Tags: