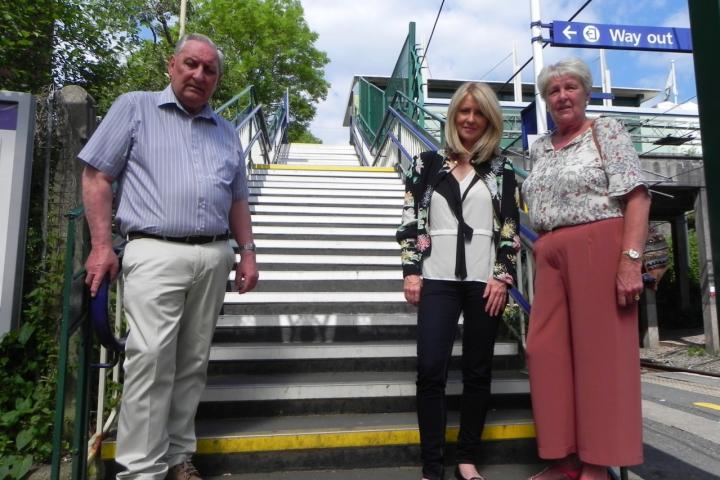 Having campaigned for nearly 20 years, the Friends of Handforth now have the support of their MP to make Handforth Station accessible to everyone.
Earlier this year the rail industry suggested that the Friends of Handforth submit a bid to the Access for All Scheme. To do this a Governance for Railways Investment Projects (GRIP 2) study was required at a cost of about £20,000. Funding for the GRIP 2 study to accompany the application was provided by Cheshire East Council, Northern Rail and Handforth Parish Council.
Tatton MP Esther McVey has now joined the fight and urged Transport Secretary Chris Grayling to support the 20-year local campaign and fund much needed accessibility improvements at Handforth Station.
Ms McVey said: "I have told Chris how much these improvements are needed and set out the reasons why. There are fewer buses now serving this area, despite a growing population, and being able to access the station provides a means of residents to be able to get to work and leisure activities in surrounding towns and cities. The only option now for disabled commuters or those with pushchairs is driving to Wilmslow, several miles away to get on the train, which seems counter-intuitive.
"I have seen passengers struggle up and down the flights of 35 steps which must be negotiated to access each of the platforms. Friends of Handforth Station have campaigned tirelessly for years on this and through their hard work and support from Cheshire East Council, Handforth Parish Council and Northern Rail the bid has been submitted. The whole community is behind this and it was important Chris Grayling knew the strength of feeling and what a difference it could make to the lives of so many in the local area. People are living longer and want their independence, improving the access would help as the current situation is totally unsuitable."
The Access for All scheme provides funding for step free access and other necessary adaptations and since it launched in 2006 more than 200 stations have benefited from step free access and another 1,500 stations had smaller access improvements made.
Nominations closed last week. Handforth's submission has been approved and supported by Network Rail, Northern and Cheshire East Council. Successful projects will be announced in the Spring.
Photo: (L to R) Cllr David Pincombe, Rt Hon Esther McVey MP and Mrs Sheila Roveira.