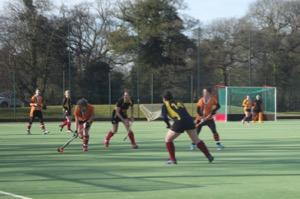 A Wilmslow team severely depleted by injuries and illness travelled to top of the table Lindum for a clash between the league's two form teams.

 Lindum made a fast start and opened the scoring with the first attack of the game, with their top scorer sneaking between two Wilmslow defenders to poke the ball home.
Wilmslow were struggling to get into their usual free flowing rhythm and Lindum doubled their advantage shortly after from a short corner.

 This seemed to focus Wilmslow's minds and they hit back with a goal on the counter attack as Andy Hunt tapped the ball over the line from a Pete Hallinan deflection. Robin Cooper brought Wilmslow level shortly after with a drag flick that rippled the Lindum net and ensured that scores were level at half time.
Wilmslow started the second half well and a fast counter started by Sam Dawson and Cooper down the left hand side finished with Hallinan cutting in to slide the ball in at the near post to give Wilmslow an unexpected lead.

 Wilmslow's lack of substitutes was starting to take it's toll as Lindum applied significant pressure. From a short corner Lindum levelled the scores with a deflection that flew above Si Pickering's head into the Wilmslow goal.

Lindum took the lead shortly after with another deflection, this time from a long ball into the D. A case of mistaken identity saw captain Ben James sent to the sin bin but Lindum couldn't capitalise, and a fast counter led by James and Tom Davenport almost created an opportunity to level the scores.
Lindum eventually stretched their lead when Wilmslow's Man of the Match Bas Steffens was obstructed by the umpire when attempting to tackle in the D and the ball was lifted high into the top corner by Lindum's striker. A final deflection finished the scoring as Lindum celebrated a 6-3 victory. This was a gutsy performance to be proud of from a depleted Wilmslow team who suffered what is only their second defeat in their last 13 games.
Wilmslow Mens 2nd looked to be making heavy weather of their match against Timperley 3rds but in the second half ran away with the match 7-1.
Wilmslow 4th team have long been league whipping boys but this season with a bunch of talented juniors and some old heads they are playing their best ever hockey. On Saturday they travelled to local rivals Alderley and beat their 7th team 17-0. Major goal scorers Livesley (5) and Dukes (4). Mens 5th lost 2-4 to Timperley 6ths.
Wilmslow Ladies 1st 5 Bolton Ladies 1st 1
The game started slowly but Wilmslow gradually established their superiority. After 20 minutes following a short corner Ruth Walters tipped the ball home to open the scoring. Hannah Coulson, returning from injury, soon made it 2-0. Throughout the match Bolton had trouble with her energetic wing play.
Skipper Charlotte Kelman was at her best with a number of drives from deep in defence and one of her accurate passes from defence found Lindsay Rachubka up front with only the goalie to beat. Initially checked, she then swept in to make it 3-0 at half time.
The Tangerines continued with the pressure after the break and following a penalty corner a Bolton defender conceded a penalty stroke. Hannah Kelman stepped up to make it 4-0. The game then slowed down in intensity and this allowed Bolton some time on the ball. From a penalty corner they rattled Wilmslow with a goal. 4-1.
In the later stages of the game the home side reaffirmed their domination with the industry of Carla Botha, the incisiveness of Rachubka and the pace of Coulson.
In the end it was an attack down the left by Coulson and an excellent reverse stick shot for a fifth goal which capped a most satisfactory afternoon and a good all round performance.
Wilmslow Ladies 2nds had a hard fought 1-1 draw away to Golborne 1sts to stay in 2nd place. The 3rds put in one of their best performances to beat Triton 3rds 3-0 at home. The 4ths drew 0-0 with Triton 3rds to keep up their chase for promotion.
Tags: