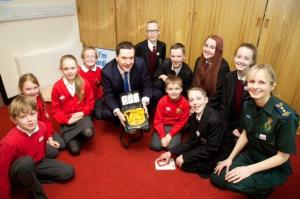 Tatton MP George Osborne joined staff and students at Dean Oaks Primary School on Friday, 6th February, as they demonstrated first aid techniques which could help save lives.
The Chancellor met with Sara Harris, a Parent Governor who is also a paramedic with the North West Ambulance Service, and a group of pupils from Dean Oaks and Wilmslow High School who have won Cardiac Smart awards - for their dedication to raising awareness of heart health, basic life support and defibrillators.
The pupils have been involved in defibrillator training and visited Westminster recently to campaign for more communities to have access to a defibrillator.
Sara Harris has been proactive in Wilmslow in helping schools to purchase defibrillators and receive training and she told Mr Osborne that there are only two schools in Wilmslow yet to get a defibrillator and be trained.
Headteacher Janet Hughes said "Mr Osborne visited because he wanted to see first hand the impact that having a defibrillator can have in a school. He was very impressed with the pupils' knowledge and skill in demonstrating CPR and using the defibrillator. The youngest pupil was only 6 years old, but could clearly demonstrate its use and explain the importance of getting help early and keeping the patient's heart beating until the emergency services arrived."
George Osborne said "Early intervention is crucial in the case of a cardiac emergency. The sooner people are treated the better the outcome. That's why it's great to see local pupils learning these life-saving skills. I am truly grateful to the North West Ambulance Service for the life-saving work they are doing in our area."