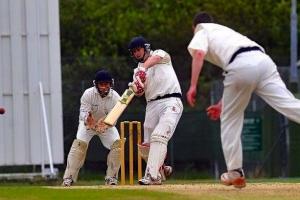 Lindow's 1st XI travelled to Romiley in the hope of continuing their good form of late. On an overcast day and with a wet and green wicket to play on, skipper Walker won the toss and elected to bowl.
Unfortunately the visitors couldn't take advantage of the situation, opportunities were missed and several catches were dropped off the opening spells. Romiley's batsmen took advantage of their good fortune and pressed on, rotating the strike well and piling runs on to the score board. Finally young Braddock made one stick, taking a catch at mid-off off Walker (22-1) to break the opening partnership of 60. A change of bowling and pace off the ball from Tyler (49-3) and Ramsden (61-0) drew out some more lofty shots from the home side that brought mixed fortunes for the visitors. Runs came thick and fast but a few more catches were taken before Romiley declared on an over par 186-4 from 41 overs.
With a strong batting line up and 49 overs to chase down the total, Lindow began their inning with optimism. Booth (22) and Peel (4) began positively but with the necessary caution required for such an unpredictable wicket before Peel found one with his name on it, popping off a length and clipping his gloves.
Baker (24) joined Booth at the crease and replicated his approach, adding runs to the board in quick succession. A change of tactic from the bowler saw more short deliveries heading towards Lindow's batsmen at an uncomfortably varied, stuttering pace as they dug into the soft green wicket. After dispatching a couple to the boundary, Booth finally succumbed to temptation and knocked one up to the fielder.
Some tight, wicket to wicket deliveries from the other end saw Baker and Christys (1) returning to the pavilion and leaving the visitors 51-4. A counter attack from Tyler (15) and Braddock (19) looked to swing momentum back their way, but it was short lived as more popping short deliveries encouraged the batsmen to give the home side some catching practice. Howarth (18) made a valiant effort to restore stability to the innings but unfortunately the tide was against him and with little support offered by tail end, Lindow finished on 130 all out.
With several senior players unavailable to play on Saturday, it was a youthful Lindow 2nd XI that faced third placed Romiley at Upcast Lane. Winning the toss, Day elected to bowl and his decision was justified as tight opening spells from Tom Jones and Khalid Ahmed ensured the visitors got off to a slow start. It wasn't too long before Ahmed struck to claim his thirtieth wicket of the season and he then went on to take another three victims.
Replacing Jones at the other end was junior leg spinner Ben Davies who quickly settled into a rhythm and was delighted to take his first two wickets in senior cricket. Day and Ian Park polished off the tail with two wickets apiece and Romiley were restricted to 134.
Unfortunately the Lindow response was not as hoped as both openers were dismissed cheaply and the home team found themselves three down for not many at all. Park and Day set about rebuilding the innings and when Day was dismissed for 15, Tom Jones came in and played some attractive strokes. The hero though was Ian Park who saw Lindow through to an excellent three wicket victory with a superb 65 not out, helped over the line by Ahmed who cleared the ground with one massive six and hit several lusty blows.
Match report by David Kendrick.
Tags: