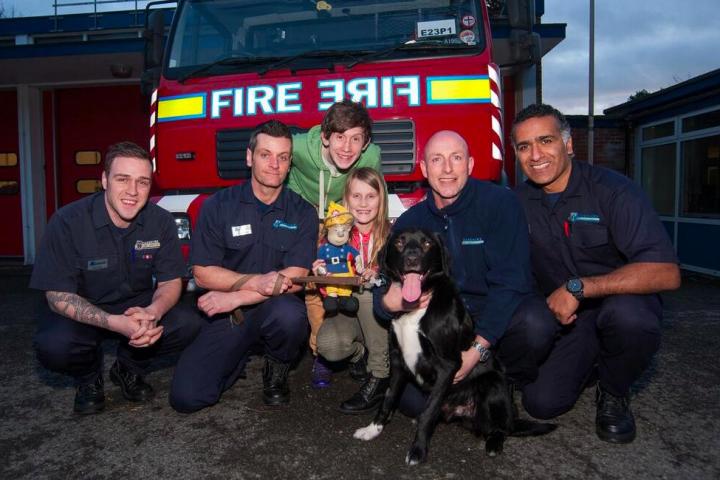 Firefighters were called to a VW camper van on fire in Wilmslow and discovered the owner's dog still trapped inside the smoke filled vehicle.
The crew from Wilmslow Fire Station arrived at the scene at 8.20am on Thursday, March 13th, to discover the fire had taken hold of the engine and front of the vehicle and spread to the passenger compartment.
Luckily the owner had managed to get himself and his two children, 14-year-old Joe and 10-year-old Lily out of the burning vehicle, but unfortunately Archie, the 16-month-old Border Collie-Cross was trapped inside the van which was full of thick black and acrid smoke.
Watch Manager Neil Brookes, who attended the incident, said: "The owner did the right thing in getting himself and his family out and phoning 999 for assistance.
"When we arrived time was of the essence so while other members of the crew controlled the fire, Firefighter Simon McDonald, wearing breathing apparatus, made his way in through a side door. He searched on his hands and knees through the smoke until he found Archie under a seat. He carried Archie's lifeless body to a clean and smoke free area where Firefighter Billy Cooper assisted with administering oxygen therapy."
The firefighters gave Archie, who was overcome by smoke, oxygen and started chest compressions which brought him round enough for his family to get him to the vets for help.
Watch Manager Brookes added: "We treated this as a saveable life and gave him the same priority as a human in that situation, treating Archie as an integral part of the family. Thankfully he's a young dog so the determination of the firefighters paid off."
Owner, Ian Thraves expressed his upmost gratitude to the firefighters and said "The crew did a brilliant job with Archie and my family and I am truly grateful that we have him home safely with us."
Mr Thraves would also like to express his gratitude to the local police, especially PC Jones who also assisted in rescuing Archie.
The vehicle was extinguished using two hose reels