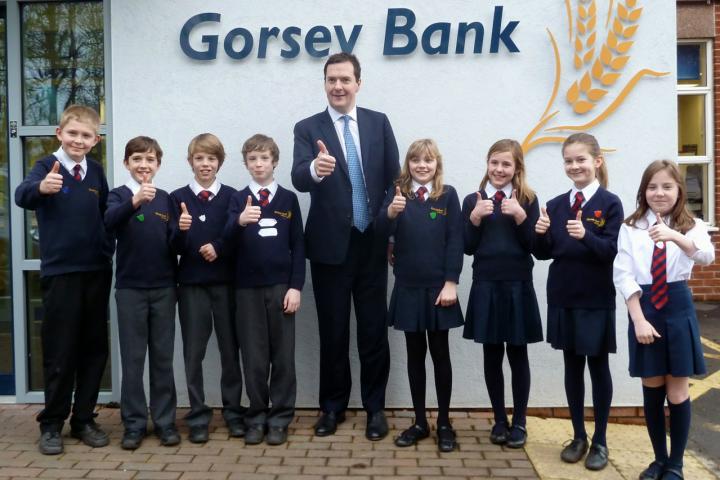 Gorsey Bank pupils were visited by local entrepreneurs and professionals last week, including squadron leaders, musicians, web designers, PR & marketing experts, lawyers and the Chancellor of the Exchequer, George Osborne.
Aspirations Week was designed to provide the pupils with an interactive insight into varied working lives. Children attended a series of talks from the experts where they went prepared with questions such as "What is your best business tip?" and "What is the most challenging part of your job?"
George Osborne MP paid a visit to Gorsey Bank Primary School on Friday, 10th January, when presented this term's House Captains, who were elected earlier that day, with their badges.
George Osborne said "Gorsey Bank is a great school. I was delighted to visit it - answering questions from Year 4 was tougher than answering Jeremy Paxman - and they were a lot more polite!"
Eighteen teams of pupils from Years 5 and 6 took part in a 'Build-a-Business' which involved planning, marketing and showcasing their own businesses to the entire school community. Each team was sponsored by a local business who gave them a budget of £25 to invest and grow into a profit and each local business provided experts to meet and share ideas with the entrepreneurs.
The event culminated with pupils, parents and the school community enjoying the products and services the businesses provided, including a Hawaiian Snack Shack that provided both indulgent snacks and interactive Hawaiian photo experiences. Monies raised from the project will be donated to the Manchester Children's Hospital.
Deputy head Joe Maguire who co-ordinated and managed the event said, "Aspirations Week has again been a great success, further building on the 2012 Aspirations Week we held. There has been a real buzz in school and has been energetic with so many visits from leading experts and business development initiatives being carried out by the children.
"I am extremely grateful for all the time and effort provided by all those involved and to the children for embracing the event with such positive enthusiasm and hard work. They very much took the lead in developing and implementing their very own interesting business ideas."
Tags: