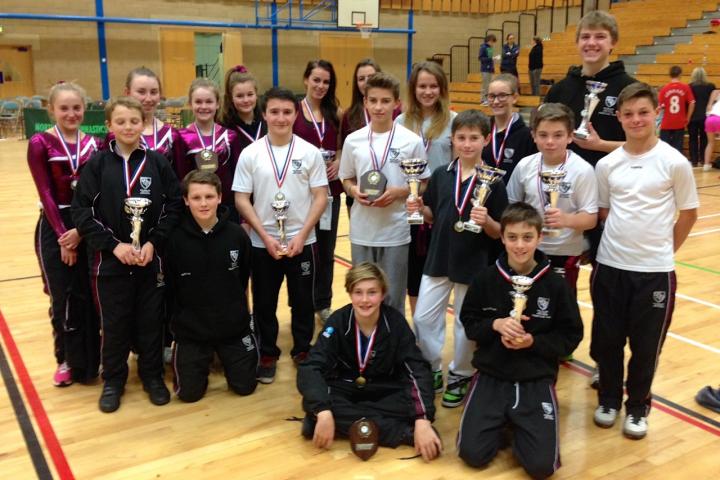 Over 350 trampolinists from Cheshire, Merseyside, Lancashire and Greater Manchester competed in this year's North West schools Trampoline competition held at Robin Park, Wigan.
It was another successful competition for Wilmslow High School as all nine teams finished in the top three positions in their respective categories. Seven of those teams will now go on to the next round in Hull.
The Under 13, 15 and 19 boys and girls novice teams along with the Under 15 boys elite team all qualified for the North of England competition. In addition to this team success, 11 students brought home silverware by finishing in the top three in their categories, with Conor Smith (Under 13 novice), Sam Margetson (Under 19 novice) and Isaac Bass (Under 19 novice) all crowned North West Champions.
Hilary Pemberton, trampolining coach at Wilmslow, commented "I am very proud. It was such a magnificent day with all 36 children from Wilmslow High finishing in the top 21 and all teams in top 3 teams. This is exceptional and is all down to the students' dedication and drive to succeed. It was an electric atmosphere and we are now all looking forward to Hull."
The breakdown of team and individual results is as follows:
Team Competiton
Under 13 Novice - Jack Colledge, Ben Fazelnyia, Conor Smith, Tenniel Cowen (1st Place).
Under 15 Novice - Ed Storer, George Ridley, Sam Short, Nathan Sach (1st Place).
Under 15 Elite - Brendan Smith, Matt Graham, Ben Vaughan, Thomas Jefferis (1st Place).
Under 19 Novice – Will Cushworth, Isaac Bass, Jordan Hough, Elliot Rowe (1st Place).
Under 15 Novice – Phoebe Potter, Elise Bale, Katie Mayoh, Juliette Hill (1st Place).
Under 19 Novice – Sam Margetson , Sara Howell, Beth Norman, Elise Potter, Charlotte O'Brien (1st Place).
Under 13 Novice - Jacinta Kynaston, Esme Plant, Shauna Greaves, Grace Kerner (2nd Place).
Under 15 Elite- Katie Powell, Molly Croft, Megan Skidmore, Bella Southerton (3rd Place).
Under 15 Elite - Vicki Cragg, Lara Oliver, Kate Russell, Izzie Hargreaves (3rd Place).
Selected Individual Results:
1st Place: Conor Smith, Sam Margetson, Isaac Bass.
2nd place: Jacinata Kynaston, Jack Colledge, Will Cushworth, Nathan Sach.
3rd place: Brenda Smith, Ben Fazelynia, Ed Storer, Elliot Rowe.
Member post by Huw Williams.
Tags: