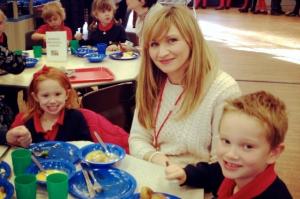 Children at Gorsey Bank Primary School and Lacey Green Primary Academy took part in National Roast Dinner day on Wednesday, 20th November.
Parents and younger siblings joined the children for a freshly prepared local and seasonal roast dinner, which included locally reared organic beef or a homemade cheesy courgette sausage, accompanied by locally grown vegetables. Pudding was homemade apple and oat crumble topped with lashings of hot custard.
Jeanette Orrey MBE, School Meals Policy Advisor and former dinner lady who inspired Jamie Oliver's school dinner campaign, says: "The Food for Life Partnership Roast Dinner Day is all about celebrating the fantastic catering staff, who are serving freshly prepared food to our children every day, as well as celebrating how far we've come in improving school meals across the country.
"It's about engaging parents and local communities, in order to create a better food culture for all. It's about highlighting the importance of good, healthy school dinners and educating children about where their food comes from through growing, cooking and farm visits."
Anya Murray, Company Director at School Food Company, who provide school lunches at Lacey Green Primary Academy and Gorsey Bank Primary School, said "We are immensely proud of the school meals we provide and today we served almost 600! That means we had a school meals take up of over 80% which is immense considering the national average is 40%. I would like to thank our catering teams who have worked flat out and have, they assure me, enjoyed every minute of it.
"We also invited parents to lunch, on a first come first served basis, demand was high and we became fully booked very quickly. We serve locally sourced and organic produce on a regular basis with most of our dishes made from scratch; it just goes to show how far school meals have come from the days of the turkey twirler!"