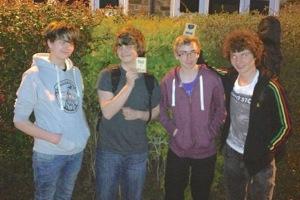 Wilmslow High School band Vacant Lot won the High School Battle of the Bands held at Knutsford Academy this week.
The four lads competed in this annual competition between Wilmslow High School, Knutsford Academy and Poynton High School on Thursday, 2nd May.
Despite some very talented competition from six other senior bands, Vacant lot were delighted to be voted the winners.
Each band played two numbers and the competition was judged by a panel from the music industry, including Dr Jonathan Savage, MD of UCan Play and a teacher at Manchester University, Dan Logan Senior Sound Engineer at Orchard Studios and Rob Goodwin of Rough Trade Records.
Vacant Lot met at Wilmslow High School and was established when the members were all aged 11, they are now 16 and preparing to take their GCSE's.
The band of Lewis Kennedy (drums), Adam Shaw (guitar), Jordi Garner (bass) and Bryn Howells (guitar and vocals) were the only ones to include one of their own numbers, 'Brewin' Up' in their set along with The Black Keys - Gold on the Ceiling.
Jordi Garner, the bass player and songwriter for the band, said "It is an honour to represent the high school and we are delighted that our hard work paid off. The other bands were all great and the varied styles of bands was amazing.
"A lot of hard work has gone into the event and who knows, next year the Brits!"
Vacant Lot have played gigs all over Manchester, supported the legendary Wilco Johnson, former guitarist of Dr Feelgood, and played at the Manchester Academy twice as well as at a festival in Spain two years ago.
They are playing a number of festivals over the summer including the Headlander Festival at Stockport Rugby Club on the 21st June Castle Rock Studio Festival in Alderley Edge on 29th June.
Tags: