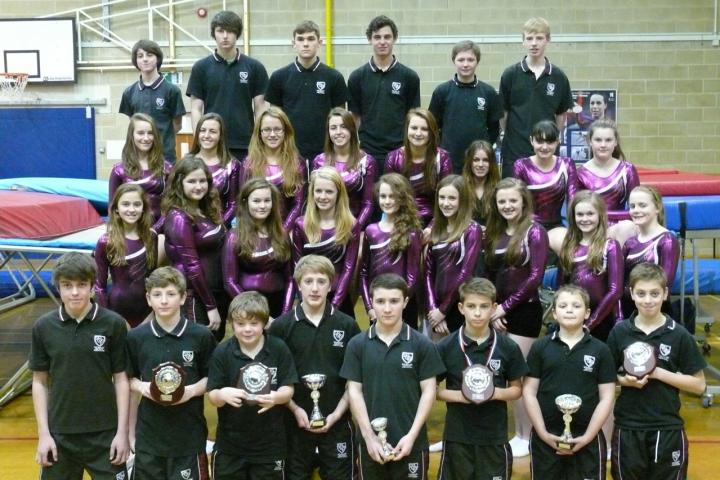 Wilmslow High School have once again proved that they are a force to be reckoned with in the world of school trampolining, with an unprecedented seven teams qualifying for the national finals in March this year.
Coaches Hilary Pemberton, Richard Price, Anna Cragg and Ruth Howard, along with PE teacher Huw Williams and officials, Jack Griffiths-Jackson, Richard Downs, Ann Powell and Deidre Smith travelled to Robin Park in Wigan for the Northern Finals of the National Schools Trampoline Competition - where the 32 competitors bounced their way to success in an impressive Northern Finals round.
There were some tense moments, with close rivals from Sheffield once again proving to be a tough opponent - but in the spirit of true sportsmanship, it was the Sheffield team coach's acknowledgment of just how well Wilmslow High School girls teams have advanced over the years that meant such a lot.
In the end, Wilmslow came second (justifiably sitting in between the first-placed Sheffield team and another Sheffield team who came in third place) and are hoping to build on this when it comes to the nail biting conclusion in Birmingham later this year.
Wilmslow is now well known for its trampoline successes and this year the team spirit has been stronger than ever. The girls teams have been fundraising for new leotards by selling Krispy Kreme doughnuts during school break and lunch times and there have been more parents signing up to help out than ever before.
Coach, Hilary Pemberton commented that "after the most amazing day in Wigan, it's just about sunk in… I was bursting with pride for all the children" as she told parents "every one of you must be extremely proud of this – to see [the pupils] achieve their goals."
Individual placings:
1st places: Matt Graham yr 8 under 13, Jonny Draper yr 13 under 19.
2nd places: Will Powell yr 11 under 19 elite.
3rd places: Ben Vaughan yr 9 under 15, Brendan Smith yr 9 under 15 elite, Jordon Hough yr 11 under 19.
Additional achievements: Elise Potter finished in 5th place and Sam Margetson finished in 6th place.
This is a member post by Huw Williams.
Tags: