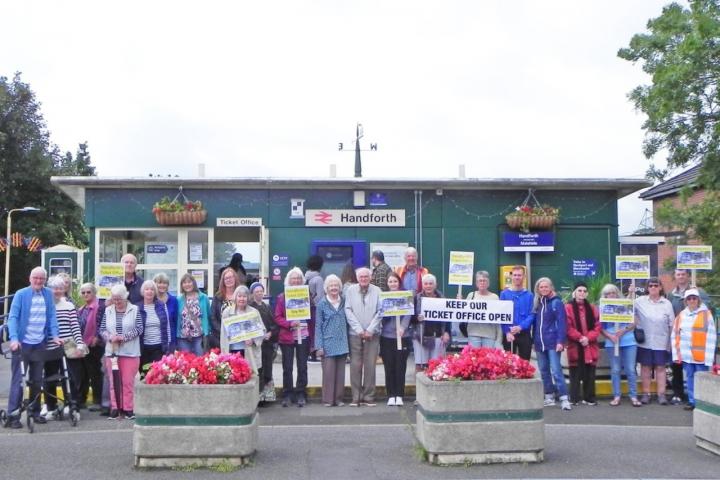 Controversial plans to axe up to 1,000 ticket offices across the UK, including Alderley Edge, Handforth and Wilmslow have been scrapped.
The plans were unveiled by the government on July 5th, having been proposed by the Rail Delivery Group (RDG) - an industry body which represents private railway operators - in order to reduce costs following a drop in passenger numbers since Covid.
Speaking at the time of the announcement, Jacqueline Starr, Rail Delivery Group chief executive, said "The ways our customers buy tickets has changed and it's time for the railway to change with them.
"With just 12% of tickets being sold from ticket offices last year, and 99% of those transactions being available on TVMs or online, our proposals would mean more staff on hand on to give face to face help with a much wider range of support, from journey planning, to finding the right ticket and helping those with accessibility needs."
The government had initially backed the proposal but today they taken a U-turn and asked train operators to withdraw their proposals which were met with a huge backlash.
The government received 750,000 responses to the public consultation - with many raising concerns about the impact on vulnerable, elderly and disabled passengers.
The Friends of Handforth Station (FoHS) are amongst those who are delighted that the government has asked train operators to withdraw their proposals to close ticket offices in stations throughout England.
Hugh Everett, the Secretary of FoHS, said "For many reasons, this would have been a huge step backwards for Handforth: we only have one ticket machine at the moment, it often isn't working, it can only be accessed via a step, it does not accept cash, many in our community cannot use such machines. Also, for many people speaking with a friendly person - and other people they happen to meet - in a ticket office is a huge social benefit."
He added "The original proposals were accompanied by huge reductions in staffing hours, which would have been a major blow to the confidence of those wanting to use our station."
Jenny Barnes, the Chair of FoHS, said "While our initial reaction is relief, and satisfaction that our campaigning contributed towards the country-wide backlash against the proposals, we know that the rail industry still has a directive to cut costs. We'll continue to watch for further announcements, and we'll continue to campaign to make sure that the services at Handforth Station are improved and not made worse."