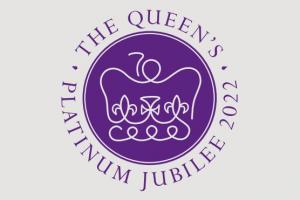 Wilmslow Town Council has confirmed its plans for the events that have been organised to mark The Queen's Platinum Jubilee in June.
This year, Her Majesty The Queen will become the first British Monarch to celebrate a Platinum Jubilee after 70 years of service. The Platinum Jubilee Central Weekend to celebrate Her Majesty's historic reign takes place from 2nd to 5th June.Wilmslow Town Council is organising the following events in Wilmslow to help residents mark the occasion:
Thursday 2nd June, 2pm: Town Crier
A Proclamation for The Queen's Platinum Jubilee, marking the start of the Platinum Jubilee Central Weekend, will be read on the Barclays step at the main Alderley Road / Water Lane junction in Wilmslow.
Thursday 2nd June, 9.15pm (for a 9.30pm start): Wilmslow's Beacon Lighting Ceremony
The Memorial Gardens near St Bartholomew's Church.
Wilmslow's beacon will be lit at 9.45pm, as part of the 'Platinum Jubilee Beacons' Community Beacon Lighting event, in which thousands of beacons will be lit by communities, charities and different groups throughout the regions of the UK, Channel Islands, Isle of Man and UK Overseas Territories.
Saturday 4th June, from 12pm: Jubilee on The Carrs
Two free events at the Carrs Park:
12pm – 5pm: Family Fun Day
Including activities and entertainment, food stalls and a screening of animated film The Queen's Corgi, featuring Jack Whitehall and Ray Winstone.
6pm – 10pm: Palace Concert Live Screening
The BBC's Platinum Party at the Palace will be broadcast live on the big screen, with food and drink stalls onsite.
Sunday 5th June: Suggested Street Party day
This date coincides with the National The Big Jubilee Lunch which is aimed to encourage communities to get to know each other a little bit better.
Wilmslow Town Council is offering Platinum Jubilee Grants of £50 to help groups of residents purchase items such as bunting, tablecloths, paper plates, hats and signage for local neighbourhood community events between 2nd - 5th June 2022.
There are 200 grants available in total, allocated on a first come, first served basis. Please visit the Wilmslow Town Council website for the full criteria and application form.
Grant applications must be received by Wilmslow Town Council before 5th May 2022.
Wilmslow Town Council Chairman, Martin Watkins, said of the Jubilee Plans, "Wilmslow Town Council is delighted to organise these events to help residents celebrate the first British Monarch to reach 70 years of service. We look forward to seeing the community come together to enjoy this historic occasion."
In addition to the above events, a Platinum Jubilee Trail will run in Wilmslow Town Centre from 30th April – 12th June.
This trail is an interactive experience, involving visiting story points in order, collecting digital stamps and being able to take selfies with some Augmented Reality characters.