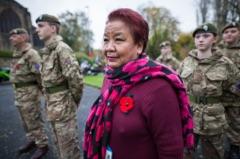 A Wilmslow resident has been selected to take part in the Royal British Legion's celebrations to mark their 100th Year which resulted in her being one of 100 people to have their story published online and in the October Issue of the Legion Magazine (see below)
Khumi Burton also featured on the showcase video created for their National AGM which is about the Young People's Award which she championed with funding the Royal British Legion for the past three years
Additionally Khumi was also invited to attend the Centenary Service at Westminster Abbey on 12th October, where the Queen and Princess Anne were present, and she is one of 100 people invited to take part in the Festival of Remembrance at The Royal Albert Hall on Saturday 13th November.
Khumi Burton was born in India, in a place called Imphal, in 1948 and came to live in Wilmslow in 1976 not knowing anybody except for friends of her late husband.
Khumi started off her journey of volunteering for charities and in the community with the help of the late Betty Withworth and Joan Barnes, explaining "When you have no children it's hard to make friends of your own age... but by involving this way .. I made a lot of friends and acquaintances not only in Cheshire but Manchester too where I became a City Magistrate, Tax Commissioner and was appointed DL (in 2003)."
Khumi got involved in the Royal British Legion and the Poppy Appeal in Wilmslow and was later asked by Julie Dove, who had been the County Fundraiser, to look after the whole of East Cheshire, so she became the East Cheshire County Poppy Appeal Coordinator in 2013, a position she held until 2019.
Along with the help from some friends Khumi also initiated the Wilmslow Street Party on Grove Street which was held on the August Bank Holiday for 9 years - bringing local residents and families together.
Khumi told wilmslow.co.uk "What I do in Wilmslow and Cheshire is because I live here and very proud to be resident of Wilmslow and in Cheshire.
"It's my way of giving back to the community who made me welcome and accepted."
Speaking about being asked to take part in the Royal British Legion's celebrations for their 100th Year, Khumi said "I am very honoured and humbled to be invited and included as one of 100 members to take part at this year's 100th Year Festival of Remembrance at the Royal Albert Hall.
"While I was involved with the Poppy Appeal as CPAC covering the whole of Cheshire East it always clashes with the evening the Poppy Appeal closes."
My Legion - as published in the Legion Magazine
I was born in India, in a place called Imphal, in 1948.
My father was a civil servant and he was transferred from one district to another, so we moved around. But he made sure that my seven siblings and I had a good education.
At school, I was part of the National Cadet Corps, and in 1965, I was chosen to represent my home state of Manipur in the annual Republic Day parade in Delhi, which celebrates India's independence from Britain. It was a great honour. We lived in tents and spent weeks of cold, misty January mornings learning how to march as a contingent, as we all came from different states in India.
While at university, I joined Air India as an air hostess. On one flight in the early 1970s, Sidney, my husband-to-be, was a passenger. Afterwards, he wrote to Air India and asked them to pass a letter to me. He pursued me for nearly three years, then he wrote to my father and said: 'I would like to marry your daughter.' We married in March 1976 and moved to Wilmslow.
I don't have any family here and as my husband was travelling a lot, I thought: 'I must do something.' So I wrote to charities and voluntary organisations and said, 'If you want any help, I'm willing.' And that is how I started my life in a way.
My husband was always supportive of the RBL, as he served as a Major in the Cheshire Regiment. I originally volunteered with the Wilmslow Branch for the Poppy Appeal. Then Julie Dove, who had been the County Fundraiser, asked me to look after the whole of East Cheshire, so I became the East Cheshire County Poppy Appeal Coordinator in 2013, a position I held until the end of 2019. I enjoyed it because it puts you in touch with people who come to the poppy table and tell you how much the RBL has enabled them to continue with their studies and such like.
So much of the RBL is about remembering our history, and so it is important for me to honour and remember those who served but should never be forgotten, particularly in the Far East. For instance, in the Second World War, the British-Indian forces fought and defeated the Japanese in the Battle of Kohima, near where I come from. The British-Indian forces were outnumbered, and some of the heaviest fighting, including hand-to-hand combat, took place on grounds featuring a tennis court, which came to be known as the Battle of the Tennis Court. There is now a cemetery there, and I have learned that a young man from Wilmslow, who joined the Army at age 18 or 19, died there. Whenever I return to Imphal, I go to Kohima and lay a wreath, and in 2019, I organised the VJ Day commemoration service in Wilmslow.
I've always felt that the RBL should concentrate on the younger generation. It's important that they know its history, because someone from their family – their grandfather or great-grandfather – might have fought in the Armed Forces. In 2015, with the support of others, I organised the Lord Lieutenant of Cheshire Young People's Poppy Appeal Award. Individuals from the Air, Army and Fire Cadets, along with the Beavers, Scouts and Guides, were awarded certificates and trophies for their contributions to the Appeal. We did this for three years. I'm in my 70s, but I want the younger generation to take up the baton of the RBL. That's how you ensure its history continues."
Photo: Khumi at the 2017 Poppy Appeal launch in Wilmslow Memorial Gardens.