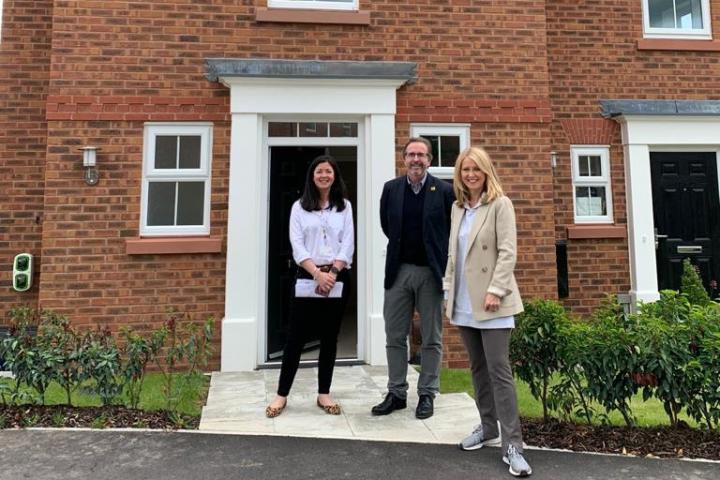 Cheshire housing association, Weaver Vale Housing Trust (WVHT) welcomed Tatton MP Esther McVey last week to tour its new affordable homes development at Stanneylands in Wilmslow.
WVHT is acquiring 52 homes as part of the wider David Wilson Homes Stanneylands development, which will see 174 new homes built in total by 2024.
Fifteen of the 52 homes have been completed so far, with the remaining homes set to complete by 2023. Thirty-four of the homes, a mix of one, two and three-bedroom family homes will be available for affordable rent, with 18 being sold through shared ownership.
The Trust has seen high demand for the affordable homes delivered to date, which were secured through Section 106.
Esther McVey MP met Wayne Gales and Jo Fallon from Weaver Vale Housing Trust to view the completed homes and discuss the housing association's role in addressing the need for local affordable homes to enable local people that are currently priced out of the local market to get onto the housing ladder.
Wayne Gales, Chief Executive at Weaver Vale Housing Trust, said "We were delighted to welcome MP Esther McVey to view the progress being made in delivering these vital new affordable homes for Wilmslow. This scheme is making a real difference in enabling local people to get a foot on the housing ladder in an area where high house prices have meant home ownership has been out of reach for many.
"We are committed to playing our part in building back fairer as we continue to tackle the long-term impact of the pandemic on local communities. Providing high quality homes that local residents can afford has a key part to play and the high demand for these homes really demonstrates the need for genuinely affordable homes locally."
Tatton MP Esther McVey, said: "It was great to see the work being done by Weaver Vale Housing Trust to develop high quality affordable homes. Schemes like Stanneylands are particularly vital in areas where house prices are high like in Wilmslow not just because they offer alternative routes for people to get onto the housing ladder, but because they enable local people at risk of being priced out of the market to continue to live in their local area."