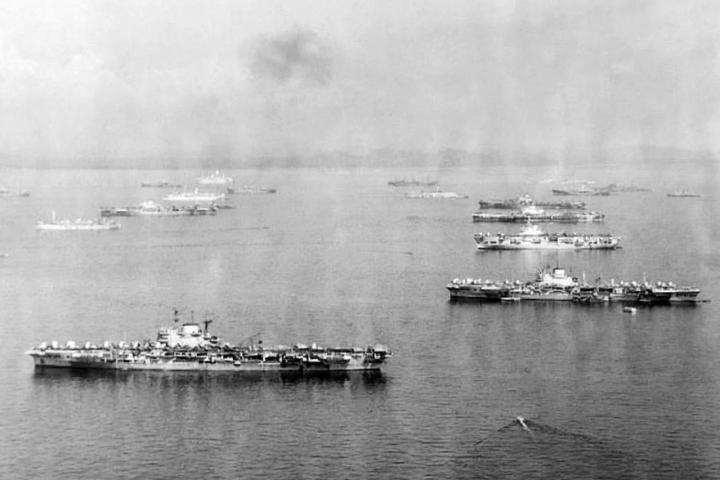 Many local people have been remembering events of 75 years ago. The war in the Far East came to an end on 15th August 1945, VJ day - it was the end of nearly four years of hard fighting on land, sea and in the air. Local people here in Cheshire served in the Army, in the Navy with the British Pacific Fleet, and in the Fleet Air Arm.
The British Pacific Fleet's main base was at Sydney, Australia; it was one of the largest fleets ever assembled by the Royal Navy. By VJ Day it had four battleships, six fleet aircraft carriers, fifteen smaller aircraft carriers, eleven cruisers, and numerous smaller warships, submarines, and support vessels. One of the major actions in which the fleet was involved was Operation Meridian in January 1945 - air strikes against oil production at Palembang, Sumatra. Then in March 1945 the Fleet, as Task Force 57 in Operation Iceberg, operated in the Sakishima Islands. There it suppressed the Japanese kamikaze raids on the Okinawa invasion force. This force included HMS Montclare supporting the destroyers. Fleet Air Arm Supermarine Seafires also countered kamikaze attacks during the Iwo Jima landings.
British battleships and aircraft from the fleet also attacked the Japanese home islands.The Japanese escort carrier Shimane Maru was sunk and the Kaiyō was disabled. Jon Kelly remembers John Washington, a Bollington Town Councillor, telling of the great relief he felt on hearing of the dropping of the bomb which ended hostilities. He was in an army unit on board a ship in an invasion force known as Operation Downfall which was being assembled to invade the Japanese home islands. Stubborn resistance was expected there. To everyone's relief the Operation was cancelled.
Cheshire men served in the army at Singapore, which was captured by the Japanese, in Burma and in the defence of India. In Burma, Allied Forces eventually numbered around 1,000,000 men. They included the 14th Army under General Slim, often called the Forgotten Army. It was supported by the Women's Auxiliary Service who provided a canteen service for the troops of Burma Command and moved down through the country with the Army.
Nora Mottram was born in 1922 in a house on Lacey Green Road in Wilmslow. During the War and on VJ day she was working on the railways at Victoria Station in Manchester. On VJ Day she was 23, she says:
"On hearing of the Atom Bomb blasts we felt a huge feeling of relief, that at last the prisoners in Japanese hands would now get an earlier release than if the fighting would have gone on. We felt it would probably have gone on for another two years which at that time was very feasible.
"Many of the local lads out there were people rescued from Dunkirk. By VJ Day these troops were mainly three or four years older than me, the older brothers of me and my age group. One I knew, Ray Crag of Mount Pleasant, was in the army and had been a prisoner of war. He came back to live on Cranford Road on Lacey Green. Another, Tommy from Morley, had fought in Burma and returned to marry a Morley girl and have four daughters. Gordon Cooper of Lacey Avenue was also in the army in Burma. He returned to his pre-war job working at MacFisheries on Grove Street. Yet another Burma soldier, Fred Hollis, came and settled in Wilmslow marrying Muriel Hughes, a local girl from Highfield Estate, I think they had one son. (Nora recalls that a number of boys from Styal Cottage Homes joined up to fight.)
"At the time Reg, my husband to be, was serving in the Royal Navy as a petty officer on HMS Montclare anchored in Sydney harbour, Reg went to Brisbane where ships were fitted out to transport the freed prisoners of war home from Changi Jail, Singapore. His brother Leo was a staff sergeant who served in Singapore and at Changi Jail."
HMS Montclare was originally built as a passenger liner for Canadian Pacific but was requisitioned by the Admiralty and converted to an Armed Merchant Cruiser in 1939. She sailed in convoy from the Clyde on 1st March 1945 via the Suez Canal, arriving in Sydney on 20th April 1945. After the peace treaty she sailed for Hong Kong arriving on 9th September for the re-occupation of Hong Kong. She finally left Hong Kong on 3rd January 1946 and arriving back in Portsmouth on 21st February 1946 where Nora met Reg.
Nora says "I didn't tell Reg but I went to meet the ship but it was already in when I got there. I was on a bus when I spotted him with a group of sailors looking in a shop window. It was extremely cold and as Reg had to report back to ship every night I stayed in a B&B. I remember Reg had brought me presents, clothes from Hong Kong and a huge bunch of bananas from Gibraltar. I gave them to some very excited kids on the train on the way home."
Nora married Reg Fox in 1946.
Historical note: The Styal Cottage Homes were opened in 1898 by Chorlton Board of Guardians to house destitute or neglected city boys in a better environment. Eventually there were 22 cottages served by a farm, school, church, hospital, stores and recreation hall. In 1930 when Manchester Education took over there were 600 children there. The community closed in 1956 but within months was in use again to house 800 Hungarian refugees for 2 years. The site now forms part of Styal Women's Prison - opened in 1963.
Jon Kelly in conversation with Nora Fox with contributions from Alan Cooper,Wilmslow Historical Society.
Photo: British Pacific Fleet.