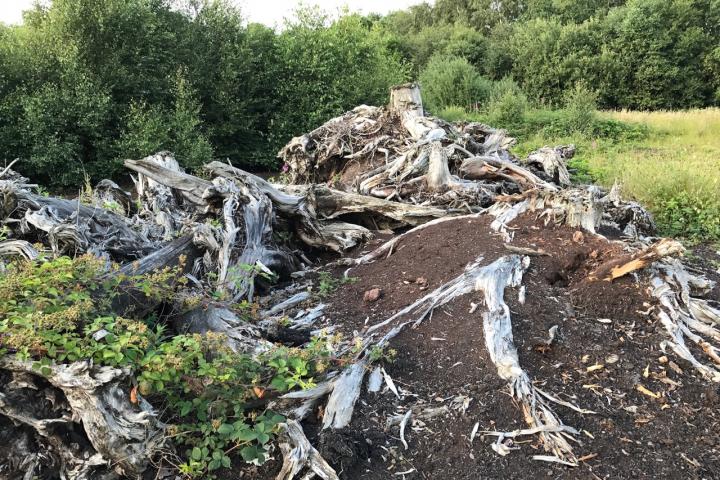 Transition Wilmslow has been trying to raise awareness of the importance of the restoration of Lindow Moss for many years, and has written an optimistic vision of what it could look like if properly rewetted and restored.
Over the last few years, the prospects for restoration have looked very bleak at times, knowing that the planning conditions from 2003 ("fill with inert waste and return to agriculture") still applied. We supported the successful planning application of 2018 which allowed the building of 14 houses on the peat working site because it required Moss restoration to take place before construction and permanently removed the threat of landfill.
We have been hoping to see signs of a restoration programme since planning consent was granted in December 2018, but instead have watched as the Moss deteriorated as it dried out more and more each year. Imagine our surprise when notified yesterday that Moss restoration had begun, organised by the owners, Croghan Peat. The site manager told us that this was genuinely the start of the restoration programme, and the Moss will be restored as promised.
We are still urgently trying to get confirmation from CEC that this is really the case but it does sound as if this internationally renowned area of historic, archeological and ecological significance, and the find spot of Lindow Man, is at last beginning to be restored.
Professor Anthony Jones, from Transition Wilmslow's Lindow Moss Restoration Group says "if this is confirmed, it is a great day for the Moss. The planning conditions require the establishment of a Liaison Committee to ensure that the local community are fully engaged and informed of activities associated with this planning permission. Transition Wilmslow looks forward to supporting the restoration in every way. This is more than a peat bog, this is our cultural landscape."
If you would like to join us in helping to secure the future of Lindow Moss, email us on [email protected] and we will keep you up to date with progress.
Guest post by Pippa Jones.