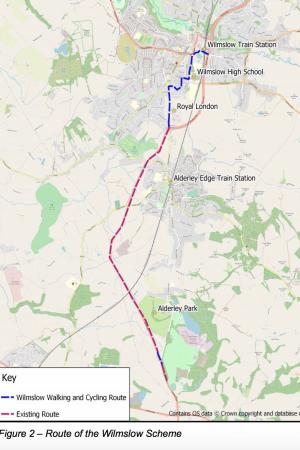 Cheshire East Council is planning to create a new walking and cycling scheme connecting Wilmslow rail station and the town centre to Wilmslow High School, The Royal London Campus and further south to Alderley Park.
The programme for planned for construction to take place during Autumn 2020.
A report has been prepared for the Cabinet meeting on July 7th seeking approval for the delivery of the Wilmslow Strategic Walking and Cycling Scheme (along with the A530 scheme in Crewe) through the Highway Service Contract, authorise the Director of Highways and Infrastructure, in consultation with the Portfolio Holder for Strategic Transport and the Portfolio Holder for Highways & Waste, to take all necessary actions to implement the above two schemes.
Additionally the Cabinet is being requested to approve the preparation of a Compulsory Purchase Order (CPO) in respect of land required to deliver the A530 Scheme, where such land cannot be acquired by agreement. Should a
The report states "The schemes will improve travel for everyday journeys as part of the recovery from Covid-19, complementing a wider programme of recovery measures in Crewe and Wilmslow."
The approved budget for the Schemes is £2.8m. The Cheshire and Warrington Local Enterprise Partnership have allocated £1.6m of Local Growth Funding (LGF) to these schemes. The remaining funds comprise of a local contribution from Cheshire East Council and third-party developer sources.
Community consultation for the Wilmslow scheme is planned in July 2020 with the town council, parish councils, local residents and businesses as well as walking and cycling community groups.
The report states "This feedback will shape the scheme design and engagement will continue as the scheme progresses."