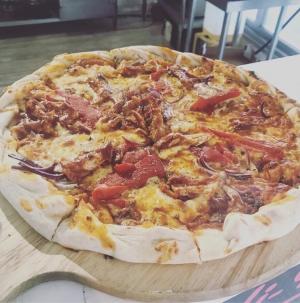 Promotional Feature
At Aldeli we are delighted to have re-opened for takeaways and it has been so lovely to see all our familiar faces again, plus some new ones!
Following our success of our homemade pizzas that we having been selling in the petrol station over the last few months our next project is serving wood fired pizzas on Saturday and Sunday evenings from 5pm to 9pm at Aldeli.
At the moment our opening hours are 10am to 5pm where everything is available to takeaway plus we have outside seating on the patio, which is all socially distanced and widely spread out, with extended opening at weekends for pizzas.
We are hand making our own Neapolitan style pizzas in our wood fired oven, with everything homemade from scratch, ranging from classic combinations to our own unique Aldeli style.
Starting from this weekend, come down and give us a try!
Tags: