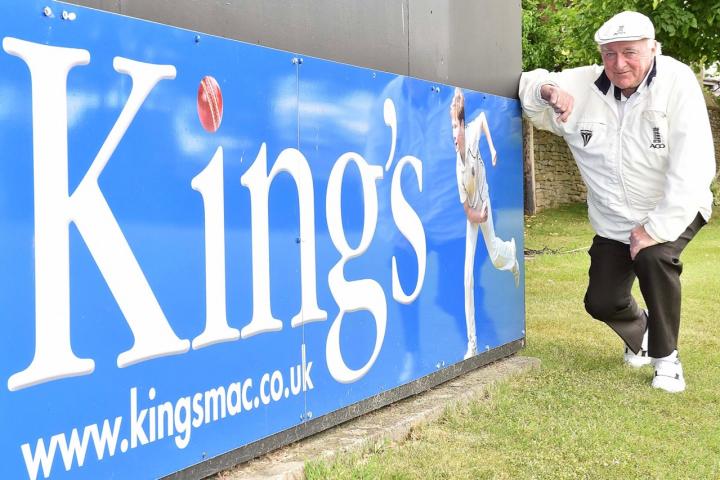 Promotional Feature
An anonymous philanthropist has donated £350,000 to The King's School to replicate their iconic cricket field in front of the new school on Alderley Road. The fabulous new facility will be named 'The Wilson Field' to honour Mr Ian Wilson, who for 50 years has inspired generations of King's cricketers.
The new cricket field, like the current pitch at Cumberland Street, will sit just in front of the main academic building, and is one of the final pieces in the King's breathtaking new £60 million campus, which will open to pupils in September. Another anonymous donation of £210,000 will enable King's to install a bridge across Dumber Wood thereby linking the main academic building with the Sports Centre on the new campus.
Known as 'The Wizzer" by generations of pupils, as Ian smiled "named by some clown back in the late Seventies" namely one of his former cricket captains, Jack Carter, Ian Wilson enjoys legendary status at King's. He went up to Jesus College Cambridge from 1964 to 1967 studying Maths and Economics and after just two terms teaching at North Manchester High, came to King's in 1968. He was appointed Head of Economics in the early 1970s and Principal of the Sixth Form in 1993, part of the team that dramatically improved King's national reputation.
However, in addition to his lovely wife Joy, whom he thanks for a lifetime's unwavering support, cricket was his passion. First from 1969 to 1971 he ran the Under 15 team, becoming master in charge of cricket from 1972 to1982. He then did a couple of years with Under 14s and Under 15s, before becoming the regular 1st XI team umpire, successively under Mark Harbord then John Nuttall and now the current Head of Cricket Steve Moores.Now a sprightly 73, he continues this voluntary task week in week out, home and away plus midweek games, and is frustrated that this year has so far been wiped out.
Ian said: "When I was informed about the naming of the Wilson Field, I was completely flabbergasted and also very much genuinely humbled. I would obviously like to thank both the school and the individual donor involved very much indeed for what I regard as an incredible honour.
"I did not set out to do the time I have so far with the King's 1st XI, and obviously I have enjoyed it immensely. While I am happy that lots and lots of cricket-playing pupils have got a lot out of their time in the side, so too have I got a huge amount out of watching, encouraging, and sometimes advising them."
On his love for cricket, Ian said: "It is not just the quality of the game itself, but the tests of character that crop up so often in it, and its lessons for life. I very often said that at Sixth Form parents evenings! The vast majority of pupils who have been in the 1st XI in my time have been 'good lads'. There have been very, very few with whom I would not have been delighted to have a drink after they had left King's and I think that is also something about the game. You have to have something about you to be willing to put in the time you have to play regular cricket."
Ian has many memories of many great games, not least the school's first win against the MCC in 1981, inspired by a thrilling partnership between Neil Smedley and Peter Moores, who later went on to become the England CricketCoach. Ian said: "Alongside Peter's natural talent, he had a deep desire to improve himself and after matches he would go back home and practice in a home-made net he had created for himself."
In Ian's 'dream team', Peter bats at four with Colin Belfield as captain in his best King's XI side from the years 1978 to 1996, the era when he and his great mate Mark Harbord were in charge. The squad would be: Kym Graham, Neil Smedley, Andy Bones, Peter Moores, Colin Belfield, Graham Jenion, Steve Swindells, Rick Laughton, Simon James, Andy James, Stuart White.
Tags: