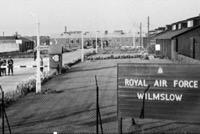 During the second world war, and for a time afterwards, Wilmslow was home to a large RAF camp - RAF Wilmslow - known as No. 4 School of Recruit Training. It was a large camp with a variety of buildings, air raid shelters and two parade grounds. The camp closed in 1962 and since the 1980's the site has been gradually redeveloped as housing - now known as the Summerfields.
Work on the camp commenced at the outbreak of war and its role was the reception, kitting-out, basic training and accommodation of 4,000 recruits. A typical recruit arrived at the camp one week into his induction and spent 8 weeks there before being posted elsewhere. Many of the recruits based at RAF Wilmslow were female; ie WAAFs (Women's Auxiliary Air Force - renamed WRAFs in 1949). The camp had a shooting range, a cinema - The Astra - and a large SSQ - Squadron Sick Quarters ie a military hospital.
It was not an airfield although there was a Supermarine Spitfire on show as a gate guardian. It was a Spitfire Mk Vb; serial 5377M aka EP120.
This Spitfire flew 79 operational sorties with 402 Squadron, accounting for the destruction of six enemy aircraft (four Bf109s and two Fw190s). She appeared in the film "The Battle of Britain" as a static machine. She was credited with 7.5 kills during her war career, and these are marked on the side of her cockpit. In 1993-5 she was brought back into flying condition and flew again for the first time in 50 years on 12th September 1995; she had a starring role in the 2001 film "Pearl Harbour". EP120 is now based with "The Fighter Collection" at Duxford and has the markings AE-A.
Photo: RAF Wilmslow 1938 – 1962
Jon Kelly
Wilmslow Historical Society