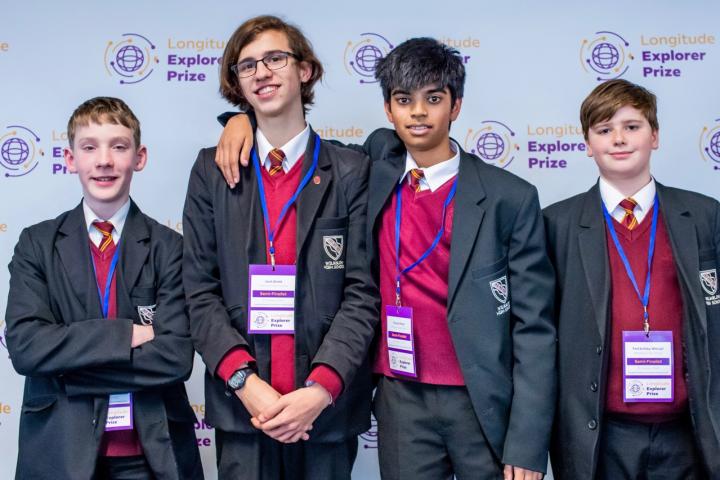 Two teams from Wilmslow High School have been shortlisted in a national technology innovation competition with the opportunity to scoop a £25,000 prize for their school.
Forty teams have been selected for the final for the The Longitude Explorer Prize, which is run by Nesta with support from the Department of Business, Energy and Industrial Strategy to supports young people to learn creatively about STEM (science, technology, engineering and maths).
The theme for this year's competition is Artificial Intelligence and the Prize challenges young people to come up with ideas for products or services that will help tackle the issues they care most about. Team of 11-16 year olds across the country were invited to submit their ideas for how AI can be used to help us Live Longer, Live Better, Live Greener and Live Together.
The first team from Wilmslow High have reached the final with their Loneliness Buddy for people who are lonely very often live on their own and don't integrate with other people. The idea ensures there is always a voice to talk to via a talking pod that will help lonely people who are unable to get out of their home.
The school's second entry is Robotic Beach Rover, a robotic system that will be able to detect, collect and sort rubbish on beaches.
Other game-changing ideas hoping to win include an app that simplifies text for students with dyslexia and learning difficulties and a robot friend for those with anxiety and autism, a t-shirt that detects heart problems, as well as a bin that automatically sorts rubbish for recyclables and an AI system to monitor and reduce traffic in busy city centres.
Those that have made it through to the finals will now be mentored and supported to develop their ideas, produce designs and prototypes and prepare for a Dragons' Den style pitch in July to win the £25,000 prize for their school or youth group. Three runner-up teams will also each receive £10,000.
Science Minister Amanda Solloway said: "It is incredible to see how these young finalists have thought up innovations to tackle global challenges, from devices that detect health problems to robots which can remove plastic waste from our seas. Technological innovation is important to grow the UK economy and we are supporting young people to pursue careers in this area through schemes like the Longitude Explorer Prize."
Constance Agyeman, Head of International Development and Communities, Nesta Challenges said: "It is abundantly clear that our young people are passionate about the great challenges of our time and have the capacity, creativity and power of thought to make the world a better place. The significant emphasis on STEM education in recent years is hugely positive. Now we need to supercharge those talents by embedding entrepreneurial skills in the classroom too. We want to empower young people to not only have bold and brave ideas, but to take that next step, and make them a reality so they can transform the world for the better."
Tags: