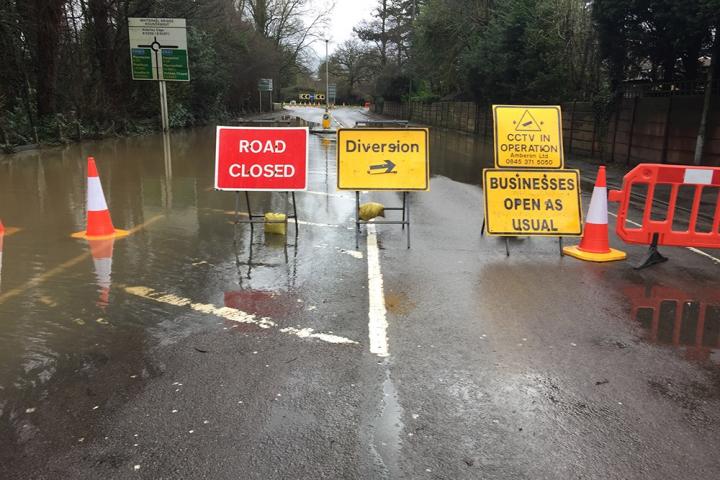 As many drivers will have noticed, Alderley Road remains closed as Cheshire East Highways have not managed to carry out a drainage investigation which was scheduled for Saturday 22nd and Sunday 23rd February.
One of the main roads into the town was closed at the weekend to enable Cheshire East Council to investigate the flooding issue on Alderley Road, which occurs each time there is heavy rain.
However, the section of Alderley Road from the Harden Park Roundabout to Fulshaw Park South was flooded again at the weekend, for the 13th time since last July.
A spokesperson for Cheshire East Council said "The roadworks have been delayed by heavy rainfall causing flooding on the road.
"The investigation work has therefore been postponed until the flooding has subsided."
Speaking about the volume of traffic diverting down Fulshaw Park at the weekend, a spokesperson for Cheshire East Council added "The official diversion doesn't divert traffic along Fulshaw Park. The official diversion is – A34 Pendleton Way/ Birrell Way, onto the A538 then diverting back on to Alderley Road.
Although the photo above of the signage taken on Sunday would seem to suggest the diversion is via Fulshaw, which would explain why lots of cars were turning up there.
"What we suspect has happened is that road users have tried to find alternative routes avoiding the official diversion."
Drivers are advised to avoid the A34 Wilmslow Bypass in the morning rush hour if possible, as it as been very busy the past two morning. It took me 20 minutes to travel from the Harden Park Roundabout to Wilmslow High School on Monday, 24th March, where I came off and went the back route, luckily this morning I could see the queued traffic as I came round Harden Park Roundabout so I went back into Alderley Edge and via The Hough.
Tuesday, 25th February 5pm - I understand from on of our readers that the Council has now reopened the road.