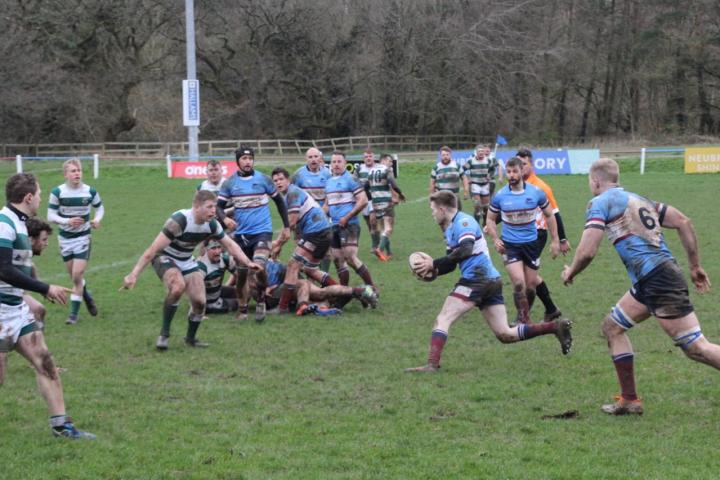 Saturday 22nd. February 2020
North 1 West
Wilmslow 21 – 14 Penrith
Wilmslow were not flattered by their three tries to two win against Penrith. Indeed, they could and should have had the game won by half time but at the end of the game, the Wolves will have been grateful for the four league points, which keeps them in the leading group of sides in this season's North 1 West league.
Both Wilmslow and Penrith have faded since the balmy days of last autumn. Penrith were the early league leaders but their progress has suffered through losing key players to injury, others moving from the area for career reasons and another handful leaving for a gap year of travel. This was their fifth successive loss since the start of the year. Nevertheless, their side stuck to the task at Wilmslow and although on the back foot for much of the game, they defended their lines well and weren't so far away from nicking a result.
Wilmslow's start to 2020 began with three successive defeats before they scrambled a win in mid month against Broughton Park. The side still had an unsettled look about it for this rearranged game, several players being absent for family half term activities on what was originally a blank date in the Wolves calendar.
Nevertheless, on the field the side enjoyed plenty of possession and territory, especially in the first half when they had the benefit of a gusting wind behind them, and with a bit more patience and composure on the ball could well have scored more than the three tries that they did. Their performance was far from perfect, occasionally it was painful to watch, but after recent outings, it was still a step in the right direction and will have given coach Chris Jones something to work on.
Full back, Ben Day crossed twice in the first half. His first try came when he took a short pass from Ethan Harding, playing at No. 10, to break the Penrith defensive line and the second followed five minutes later when he got himself in the perfect position to take Mark Jennings inside pass. The Wolves were on the attack again from the base of a scrum as half time approached when Penrith intercepted a pass in midfield to race away for their centre Rossi to reduce the deficit.
Up to that point, they'd hardly been out of their own half and their spirits were visibly lifted to find themselves only seven points adrift at half time with the prospects of an awkward wind in their favour to drive them on in the second period. Wilmslow defended well though, despite a number of worrying moments. They pilfered the ball several times on the Penrith throw, made steals at the breakdown, forced them into errors and had several good attacking phases themselves.
From one of these Ethan Harding broke the Penrith line for what transpired to be the decisive score with about fifteen minutes left to play. Several other good positions were squandered before Penrith had the last word in the last play of the game with winger Kyle Adams making the extra man to cross and full back Fraser Nicholson making an awkward conversion to secure them a deserved losing bonus point.
Wilmslow No. 7, Sammy Lawton was justifiably named man of the match for his carrying of the ball, his tackling and overall work rate. He was mortified though that his otherwise excellent showing wasn't rounded off with a first half try, when he was caught from behind just five metres or so short. Mark Jennings was also tackled short as he went for the line but overall looked to be finding his form again after an injury induced layoff. You would have put your money, quite a lot of it, on prop Adam Taher scoring late on but he was stopped just an inch or so short when a try looked inevitable.
Once again though, Ben Day had demonstrated his remarkable ability to intrude the line to maximum effect in just the right place and at the right time. He's already Wilmslow's all time record try scorer and his two in this match not only increased his tally but ensured the win.
A word for ground manager, Bryn Lewis, who somehow against all the odds, the incessant rain and flooding of the last week or so had produced a surprisingly firm and dry pitch. It wasn't his fault that a stiff wintery North Westerly wintery was rattling everyone's bones as it blew and gusted its way down the ground.
Next week, Douglas (IOM) are the visitors. The Wolves and their supporters will be hoping that this week's improved performance will be carried forward into this game.
Match report by David Pike.
Tags: