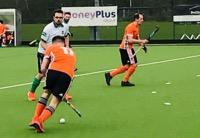 Wilmslow Mens 1st 11 Preston Mens 2nd 1
The oranges needed one more win to guarantee promotion and they did it both in Styal and style! Playing against Lancashire's top clubside's second string Wilmslow played some of their best hockey of the season.
Joe Booth opened the scoring with a slap shot following a well worked short corner routine. A Martin Wright low drag flick direct from a short corner quickly made it 2-0. Pete Hallinan opened his scoring with a tap in following some exquisite passing from midfield. Booth made it 4 with a hard reverse stick shot which went through Preston's hapless keeper's pads. Booth managed to get his hat-trick before half time before a converted short corner allowed the visitors on the scoresheet.
In the second half Preston were clearly relishing the thought of the journey back up the M6 as Wilmslow piled on the agony. Booth slid in at the far post to deflect a shot into the net for his fourth. From the top of the dee Cam Armstrong slammed the ball into the bottom corner.
It was Hallinan's turn again as he dribbled round the keeper for his second.
The crowd really appreciated the brilliant hockey which flowed from midfield particulary from Tom Davenport and skipper Ben James
One of Wilmslow's promising youngsters, Fabio Stubbs who has enjoyed an excellent season scored the ninth with a back post volley.
Jack Wright rounded the keeper to make it double figures and the final goal was scored by who else but Joe Booth, taking his tally to five and the man of the match award.
Wilmslow can enjoy the remaining games with the points safely in the bag and look forward to challenges in the next level up in the forthcoming season
Wilmslow 2s had a good win away to Preston 3s, 5-3 to put them in 4th place in the table
At home the Mens 3s had one of their best wins of the season 5-1 against Colwyn Bay side Clwb Hoci Eirias 2s
The 4s had a 0-12 spanking from league leaders Crewe 2s but the 5s had a creditable 0-0 draw with Crewe 4s
Stokesley Ladies 1st 2 Wilmslow Ladies 1st 0
Wilmslow braved the elements in their trip to Middlesbrough, unfortunately with a weakened side. Missing captain, vice captain and leading goal scorer, the oranges were always going to be up against it.
Stokesley found some heavy resistance from the ever-reliable Cat Lang in the Wilmslow goal. Rhy Sears and Kelman sisters Hannah and Emilie played well in defence. Hannah Coulson and Carla Botha played well up front but the patched up midfield was frequently overrun.
Comfort should be taken that missing so many key players the oranges can still match club sides in their first season at this level.
Match report by Steve Kinsella.
Tags: