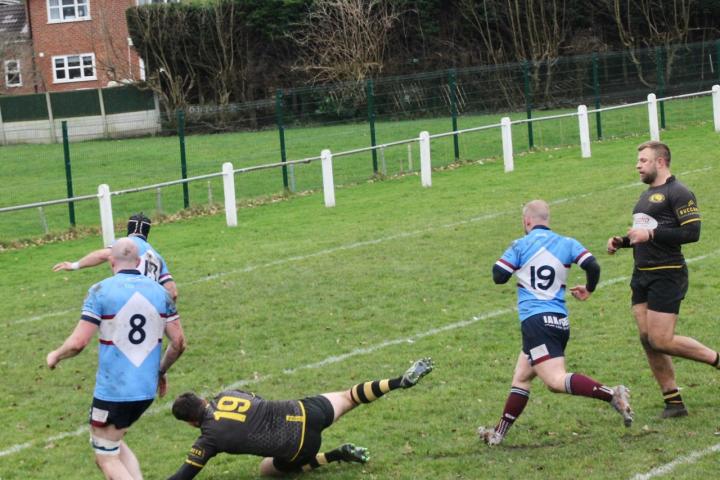 Saturday 11th. January 2020
North 1 West
Northwich 41 – 22 Wilmslow
A much depleted Wilmslow side ultimately did well to come away from Moss Farm with a losing bonus point for scoring four tries. Indeed they weren't so far away from snatching a second bonus point in the final minutes with a fifth try but their handling and passing wasn't sufficiently secure and the home side capitalised on a loose ball to earn a penalty to the corner and in the last move of the game to stretch their lead with a sixth try of their own.
Despite the undoubted commitment of the Wilmslow players, the side was, in truth, only a shadow of the team that was carrying all before it last November and December. Back then, they were clinical in taking their chances and their defence was near water tight.
Against Northwich, there were nine enforced changes from the side that had turned out the week before against Stockport and another nine changes, not all the same, from the side that had played Waterloo last November.
There were only occasional glimpses of the kind of play, they were then producing and the defence, back then so difficult to break down, has become a veritable leaking sieve which Northwich backs frequently ran through from one end of the field to another.
Added to this, the Wolves failed far too often to protect hard earned possession, which was either coughed up in the tackle, passed waywardly or just dropped and conceded to an efficient Northwich team, themselves not at full strength.
Northwich's opening score came after only two minutes when Wilmslow dropped a pass at the base of a scrum and got offside trying to tidy up. From the ensuing penalty, Northwich took the lineout and a couple of thrusts later, they had their opening score, through flanker Chris Dale. They then missed a simple looking penalty for goal and when they fouled up an attacking scrum soon after, a long kick out and chase by the Wolves was the prelude to some crisp handling finished off by centre Kieran O'Rourke.
Northwich went 14-5 ahead on the half hour with their second try from a five metre scrum involving their No.10 Nick Baldwin and centre Scott Davidson. Within five minutes the Wolves responded with their best play of the game which showed what they could be capable of. A powerful drive from a lineout by prop Ollie Stockwin, carried on by Chris Jones led to an incisive run by Sam Cutts who released left winger Jamie Kingdon for the touchdown.
They then lost the ball at the restart and Northwich exposed the defence for a third try on the right, Naylor, and Poste combining to put lock Patrick Fray in. Immediately, Richard Dale broke the Wilmslow defence in midfield from the restart and raced away for Davidson to put winger Kyle Clarke away for their fourth try on the cusp of half time.
With a stiff wind now behind them, the money was on Northwich to run away with it in the second half but the wind then died down and changed direction. Wolves scrum half Andy Rimmer took full advantage of a lapse in the Northwich defence to run away from halfway for the third try.
The next twenty minutes or so was dominated by the home side, which added a penalty through Baldwin and then decisively ran back a loose Wilmslow clearing kick for their fifth try, full back Tom Husbands shredding the defence and feeding Richard Dale for the score.
At 36-15, the game looked over but Wilmslow finished with some panache as No. 8 Jack Masters powered through to reduce the deficit and for a handful of tantalising minutes there was an outside chance of the Wolves pulling back another score until mishandling, which had been their nemesis all afternoon, allowed Northwich to finish the game on the Wilmslow line with a final score from winger Jamie Wood.
Despite all the selection difficulties for Chris Jones and his team, there was still a sense of frustration that with just a bit more composure, patience and quite simply savvy, as to what may or may not have been on the Wolves could have run Northwich closer. No doubt though that on the day, Northwich were the more accomplished side and thoroughly deserved their success.
For Wilmslow, the challenge, despite all the enforced chopping and changing every week, is to restore some of the stability of last autumn.
Photo: Centre Kieran O'Rourke scores Wilmslow's first try against Northwich with No 8 jack masters and hooker Conor McMurdock in support.
Match report by David Pike.
Tags: