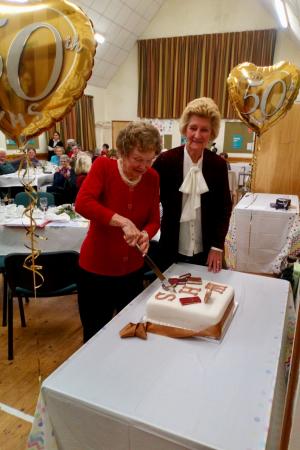 Wilmslow Historical Society held their annual Christmas social on Wednesday, 4th December, which was extra special this year as it coincided with 50 years of the society.
Seventy-two members of Wilmslow Historical Society gathered in the gold bedecked church church hall and following a glass of bubbly on arrival they got down to a pictorial quiz focusing on 1969.
After dinner a cake created by Ruth Vickery was ceremoniously cut by a founding member, Pam Savage. Attendees also enjoyed a raffle before being entertained by John Wallace presenting on the heyday of Alderley Festival Hall as a concert venue from 1940 to 1960. He included recorded extracts from big bands, swing, bebop, jazz and rock'n'roll.
Wilmslow Historical Society boasts a membership of over 100 who regularly attend evening lectures on a broad range of historical subjects including local, national and international topics. Over the last year these have covered such areas as Rudyard Lake, the Pankhursts and Ptolemaic Girl Power. In the new year they look forward to talks about Cheshire Quakers, the Boudicca Revolt and Robbie Burns.
Chairman Alan Cooper said "The Society has a distinguished history of conducting research and publishing its work. We have a wide range of booklets available. After publishing widely in local media 55 monthly articles remembering the 289 local men who died in the Great War, we have just produced a booklet of biographies of the129 lads commemorated on the brass panels in St Barts.
"We are currently compiling an oral history of Wilmslow in the mid-twentieth century by talking to older residents who remember these times."
Photo: Pam Savage cutting the cake with Ruth Vickery looking on.