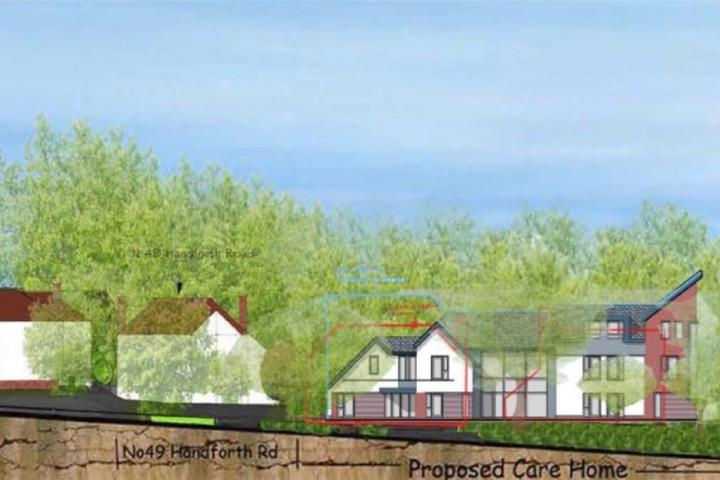 The decision on revised plans to demolish two detached residential properties in Wilmslow and erect a care home was deferred by the Northern Planning Committee this week.
Despite objections from local residents, MP Esther McVey, Handforth Health Centre, Councillor Toni Fox and Wilmslow Town Council, the Planning Officer recommended approval of New Care Project's proposal to demolish two 4 bedroomed houses in large plots at 51 to 53 Handforth Road and replace them with a 60 bedroom care home, arranged over three floors, with 25 car parking spaces.
Cllr Iain Macfarlane explained "The committee were supplied with diagrams and drawings showing the new elevations which would reduce the height of the proposed development on the front two storeys and 'would appear as two detached dwellings connected by a lightweight glazed link'."
The subsequent debate resulted in a 5:5 tie after which Cllr Craig Browne, chair of the Northern Planning Committee, abstained and invited further debate.
Cllr Iain Macfarlane added "In an attempt to move things forward an amendment was proposed for the application to be deferred to allow the council's design officer to look at possible ways of making this glazed link between the two buildings lighter and less visible from the road. This amendment to defer the application was passed by a majority vote."
The Altrincham based company originally submitted a planning application in March 2018 to demolish the two detached houses and replace them with an 83 bedroom three-storey care home. However, due to some objections from the local community a decision was not forthcoming and New Care submitted an amended scheme for a 65 bedroom care home with a revised site entrance position as well as 26 car parking spaces.
However, the second scheme was met with strong opposition with 84 letters of objection received and was refused by the Northern Planning Committee in April 2019. Members of the Northern Planning Committee unanimously agreed that it was an overdevelopment of the site, which resulted in a lack of car parking, an overbearing impact on neighbouring property because of the bulk and massing as well as being out of character with the street scene.
There has been a subsequent appeal to the second scheme which was dismissed due to the visual harm to the street scene and harm to the character and appearance of the area.
Members of the Northern Planning Committee voted to defer the decision on the application for the proposed care home on Handforth Road by 8 votes to 3.