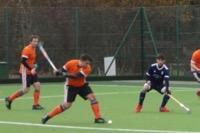 Durham University Men 2 Wilmslow Men 1st 1
Wilmslow started slowly in a tetchy opening from both teams. Durham set their game plan out early and were content to sit deep and absorb pressure before trying to hit Wilmslow on the counter.
Wilmslow struggled to break the Durham defence down, although they had 2 short corner chances which they couldn't convert.
Durham took the lead midway through the first half with a strike from a short corner which looked to have deflected in off a defender's stick.
Wilmslow had a short corner chance at the end of the first half but couldn't capitalise and went in behind at the break.
The men in orange grabbed the initiative in the second half and upped the intensity of their play and the pressure on the Durham defence, which started to show signs of cracking.
Wilmslow finally took a short corner chance when Simon Swatland equalised by lifting the ball over the keeper from a rebound after Mike Sambell's initial strike was saved.
Wilmslow were in the ascendency but couldn't capitalise on their territorial advantage, and Durham were fortuitously awarded a short corner after they played the ball dangerously past Wilmslow players' heads in the circle. Durham converted their corner to win it at the death and consign Wilmslow to a first defeat of the season.
Wilmslow Men 2nd 3 Southport Men 1st 2
Mens 2s did the reverse of the 1st team, they took on a Southport 1st team top of the table after 7 wins. Mark Lumb opened the scoring but Southport struck back to go into a 2-1 lead. The 2s, finally fielding a full strength side, battered away at the Southport defence and it took a split second perfect shot from Steve Edmonds to level the scores. Finally after much pressure a Rick Pfeiffer follow up won the game.
Mens 3rd and 4th returned empty handed from their visits to Rhyl and Alderley Edge, and the 5th gained a lesson in passing from Bowdon veterans who ran out 4-0 winners
Harrogate Ladies 1st 2 Wilmslow Ladies 1st 0
Wilmslow faced their toughest test so far this season with an away game against league leaders Harrogate. The orangetops put up a good performance but could not breach a well-organised Yorkshire defence
Ladies 2nd went down at home to Welsh side Northop Hall 1st, 1-3 in spite of some excellent defensive play. With the 3rds game cancelled and the 5ths losing 1-2 to Neston 5s it was down to the 4ths to brighten the gloom. This they did with 3-0 win against Chester 4s which keeps them in 2nd place in the league. Penny Sparrow kept up her record of scoring in every game.
Match reports by Steve Kinsella.
.
Tags: