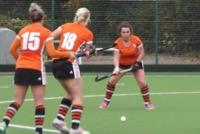 Wilmslow Ladies 1st 2 Ben Rhydding Ladies 1st. 1
On Saturday the ladies 1s hosted top Yorkshire side Ben Rhydding. The home team needed a win to lift their league status after suffering back-to-back defeats by a single goal margin.
The game started with a blistering pace and Wilmslow set the precedent with their dominant pressing and attacking threat. They came close numerous times and were unlucky not to take the lead with the opposing defence and particularly the keeper keeping the ball out of the goal at all costs.
After a lengthy period of possession the home team opened their account with a quite exquisite pass from midfield maestro Lily Harrison finding leading goal scorer Lindsay Rachubka on the move into the 'D'. Her fine finish past the onrushing keeper settled the crowd's nerves.
The girls had to maintain their composure and concentration as Ben Rhydding were very dangerous and came close a number of times but keeper Cat Lang stood firm and batted away any attempts. A series of penalty corners saw Carla Botha net her first of the campaign as she finally slotted the ball home after numerous breakdowns; 2-0 to the home side.
Ben Rhydding were still well in the game and looked threatening on the counter. An outstanding individual goal from them set up a nervy last 10 minutes. Going into the last 5 minutes, Ben Rhydding were awarded a penalty flick when their attacker drew blood from steely fullback Hannah Kelman who left for hospital. Man of the match goalkeeper Lang, in her 28th season at the club, made an outstanding save to deny Ben Rhydding claiming the draw and their first point of the season and ensure all the points stayed in Wilmslow.
A hard-fought but well deserved 3 points sees Wilmslow maintain their mid table status during their first season at this level. They travel to a Wakefield team next week looking for back-to-back victories.
Ladies 2nds had an excellent win 5-2 away to Brooklands Poynton 3s with makeshift goalie Sharon Holford the star turn. Ladies 3rds lost 1-2 at home to Rhyll & District 1s but the 4ths and 5ths both won 5-0 and 3-0 against Crewe 3s and Bowdon Vixens respectively
Doncaster Mens 2nd 0 Wilmslow Mens 1st 4
Wilmslow managed their fifth win on the trot in a fairly comfortable win against lower ranked opposition.
Wilmslow 2nds however got off to a bad start against Neston 3s and were 0-2 down and under the cosh against a fit young Neston side. The more experienced home side gradually reeled the visitors in and in the second half put them to the sword finally winning 5-2
The 3rds went down 1-3 to Neston 4s but the 4th team had a good 2-1 win against Bowdon 6s.
Wilmslow 5ths had most of the play against Sandbach 3s but could not find a way past their goalie. Sandbach with two breakaways won 2-0 much against the run of play.
Match report by Steve Kinsella.
Tags: