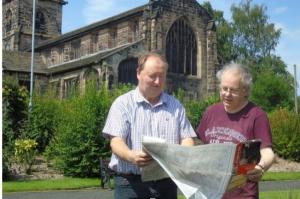 As part of National Heritage Week, Jon Kelly of Wilmslow Historical Society is organising free walking tours of the town centre which will cover all periods from the Bronze Age, through Saxon, Norman and the Civil War to more modern times.
Alan Cooper, Chairman of Wilmslow Historical Society, said "Heritage Open Days are England's celebration of local history and heritage. It's a once a year chance to uncover and discover hidden treasures and rarely told stories. Come and discover the hidden history of our town. Three armies have marched through, two have flown overhead not to mention the two secret ones. Saxons, Normans all feature, plus a future prime minister who came and a current one who didn't. We are delighted that Jon has designed such an informative and interesting tour."
Tour leader, researcher and contact, Councillor Jon Kelly said "I think people might be really surprised how often Wilmslow people featured in national events. From footballers to authors and scientists, musicians to bog people - who do you think is our most famous person?"
The tour is a guided walk starting and finishing at the Town Notice Board in Bank Square, taking about an hour and a half. The tours will start at 12 noon on Friday, Saturday, Sunday and Monday, 13th to 16th September.
Places are free, but numbers are limited and must be booked in advance on 01625 250881. Bookings open on Thursday, 15th August and close on 8th September.
You can see more of the 5,000 countrywide events on the map. Established in 1994 with 701 events, Heritage Open Days have expanded to 5,000 events run by some 40,000 volunteers. It is organized by Historic England and has grown into the country's largest heritage festival. All events are free to explore.
Photo: Jon Kelly (left) and Steve Hunt (right) Wilmslow History Society History Tour Guides discuss the Tour in the Remembrance Gardens in front of St Barts Church, Wilmslow, two of the locations featured in the Tour.