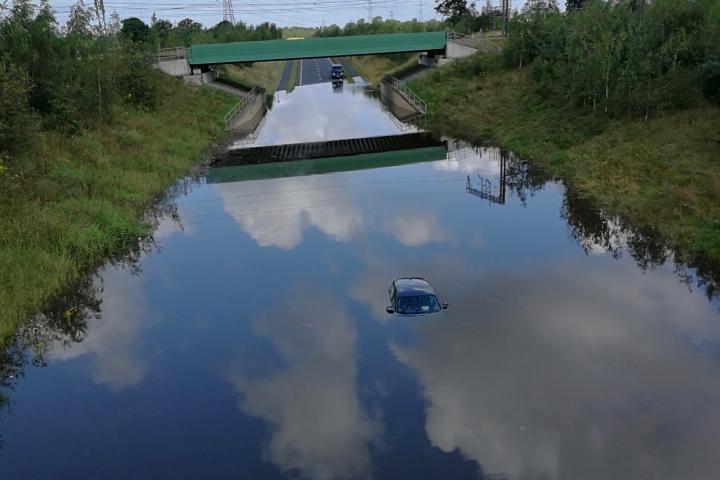 The A34 Alderley Edge Bypass has been closed again because of flooding.
Following heavy rainfall over the weekend the A34 Melrose Way was closed in both directions from Sunday evening until mid-morning on Tuesday, 30th June.
However, just over 24 hours later the bypass has been closed again in both directions due to flooding.
A spokesperson for Cheshire East Council said "Please allow extra travel time and plan your journey in advance. We're working to clear the network as soon as possible, thanks for your patience during this time."
Tatton MP Esther McVey said: "The last few days have seen unprecedented levels of rainfall and while it is a natural phenomenon and nothing can be done to stop the rainfall, there must be plans in place to deal with the aftermath and pump the water away as soon as possible. I have written to Cheshire East Council asking them to update me on what measures they have in place to deal with the rising water levels and how they plan to manage the situation both while the rain continues to fall and once it stops.
"Today I also raised the issue with ministerial colleagues at the Department for Environment, Food and Rural Affairs and briefed them on the situation in and around Wilmslow. I highlighted my concerns about flooding on the A555 (Stockport Council) Airport Road and the A34 Alderley Edge Bypass, both comparatively new roads and expressed my concerns how they were designed in such a way this should happen. I do know a number of other roads are also affected either because of the volume of top water, rivers bursting their banks or sink holes appearing and we also need to ensure plans are in place to get those roads back open as soon as possible.
"I would like to thank our excellent emergency services who have rescued people in the past days and are continuing to work around the clock to keep us safe."
Photo courtesy of Rupert Cornford, Story Publishing, taken on Monday, 29th July, on a bridge above the AE bypass near Sossmoss / Nursey Lane.
Tags: