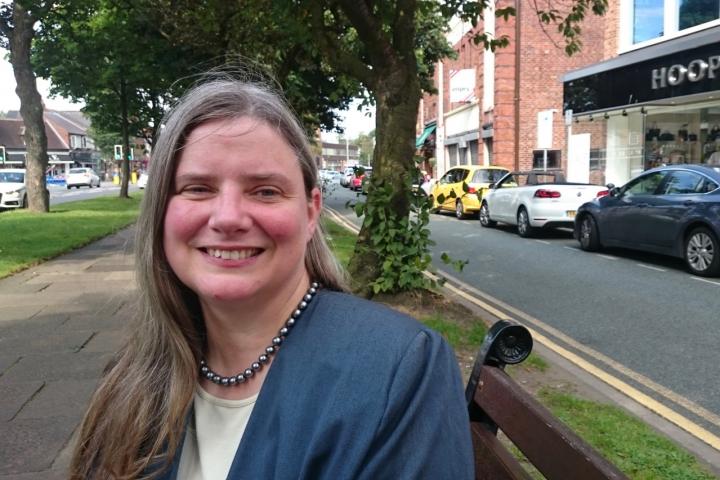 In the run up to the local elections on May 2nd I have published brief interviews with each of the candidates - standing for seats on Wilmslow Town Council, Handforth Parish Council as well as the Handforth and Wilmslow wards on Cheshire East Council, who responded to my request, in the order in which they replied.
This is the final interview and to read the interviews with the other candidates you can click on the tags at the bottom of the article.For example, pieces on the other candidates for the Wilmslow Town Council election will all be tagged 'Wilmslow Town Council 2019 Election'. Candidates representing the same party or group will also be connected via the tags, candidates competing in the same ward will be connected by tags as well and all articles will be tagged '2019 Local Elections'.
Birgitta Hoffman is a Liberal Democrat candidate for the Wilmslow West ward on both Wilmslow Town Council and Cheshire East Council.
Birgitta moved to Wilmslow from Manchester in 1997 and have been here ever since. She used to work in academia, both in Manchester and further afield. She still conducts a lot of research on the Romans in Britain and has built the MANCENT adult education network.
She also enjoys her garden and long walks in the Cheshire countryside as well as wildlife watching and historical railways.
Are you a member of any local groups or societies?
I am the chairman of Wilmslow Community Archaeology for 15 years and have until recently worked with the Wilmslow Historical Society and the Poppy Appeal, this summer I am helping as a volunteer with Wilmslow in Bloom yarn bombing project. I enjoy the opportunity to talk to people about Wilmslow in the past and putting together events such as the Heritage Open Days or WCA's exhibitions in the Wilmslow Library, as it gives us the opportunity to explore what we like about Wilmslow and what needs to be done to preserve that.
Why have you decided to stand for election as a parish councillor and ward councillor for Wilmslow?
I believe strongly that a community is better when its member share the responsibilities in keeping it working well. Having lived this long in Wilmslow and having the opportunity to speak to people about what makes Wilmslow special in their eye, I would like to help these ideas come to fruition.
Wilmslow has a lot to offer to all of us, but there is a lot that could be put right, like the fact that the Leisure Centre lift is just not being repaired, thus denying a lot of us the chance of using the facilities. This may sometimes seem small things, but most residents know, that unless somebody gets small things sorted in time, the bigger things will soon break as well.
We need to protect Wilmslow's atmosphere of welcome and this will need a lot of work from ensuring all people in Wilmslow can participate to ensuring that our High Streets (both in Grove Street and in Chapel Lane) continue to thrive, because that is where we do our day to day shopping and where our community events start, often literally, as so much here is done by the business community for the benefit of everybody.
Have you stood for election before? If so when and for which party?
I have stood before here in Wilmslow East bi-election for the Town Council as the Lib Dem candidate.
What do you consider to be the important issues facing Wilmslow?
As already mentioned protecting our vibrant High Streets is going to take a lot of effort in the coming years. So far, we have been very lucky compared with a lot of other towns, but it has also taken a lot of hard work from the Business associations and a large number of volunteers throughout the town and they need to be supported in this by the town council and frankly through the support of all of us.
Cheshire East as a whole is going to have to face the results of the huge building boom that can be seen all along the A34 and which shows no sign of slowing down. This is going to put a lot of pressure on the communities and the existing facilities, because so far we have seen little effort to actually expand either the school provision, or the facilities for services for the community, despite new families already arriving in large numbers.
What do you hope to achieve and how in the next 4 years?
I would like to see in four years time a Wilmslow, that has managed to preserve its character as a wealthy Cheshire town and that has integrated all the newcomers to the area, by providing jobs in town and further afield. I hope that we can keep Wilmslow's thriving IT industry and small businesses in the town and expanding, so that we continue to have the financial means to support the many community events and facilities in the town. For Cheshire East, I hope that we will be able to rebuild the reputation of a Council that can deliver competent decisions and has shed the reputation for mismanagement that it seems to have become under the Conservatives
What experience and personal qualities will you bring to the role?
I have run for over 10 years MANCENT, through recession and managed to keep it financially sound and independent. I hope to be able to bring my experiences to help with the challenges Wilmslow and Cheshire East are facing in the coming years.
Why should Wilmslow residents vote for you?
I think Wilmslow deserve a chance at responsible government that sees itself as defending and safeguarding the interest of the community as a whole, not just the views of a selected few. As money does not grow on trees, this means also helping businesses thrive in the area. But if you are interested to have a balanced approach, I would gladly give my best.