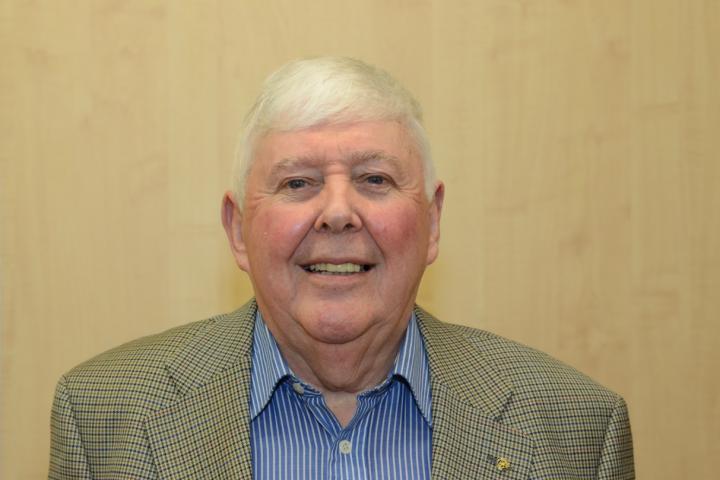 In the run up to the local elections on May 2nd I have been publishing brief interviews with each of the candidates - standing for seats on both the Town Council and Cheshire East Council - that respond to my request, in the order in which they respond.
To read interviews with other candidates you will be able to click on the tags at the bottom of the article. For example, pieces on the other candidates for the Wilmslow Town Council election will all be tagged 'Wilmslow Town Council 2019 Election'. Candidates representing the same party or group will also be connected via the tags, candidates competing in the same ward will be connected by tags as well and all articles will be tagged '2019 Local Elections'.
Ian Ferguson is a Conservative Party candidate for the Dean Row ward on Wilmslow Town Council.
Ian, whose actual name is John Ferguson, has been known all my life as Ian - which is Scottish for John. He has lived in Wilmslow with his wife Margaret for 26 Years in total, and have two daughters who both went to Gorsey Bank Primary School and Wilmslow High School.
He worked most of his life in the insurance industry, saying "the skills that I gained in my career have greatly enhanced my ability be of assistance in a wide range of areas.
Are you a member of any local groups or societies?
In my younger days I was a member of Round Table also the Group Scout Leader of the 4th Wilmslow (United Reform Church) and organised disco's for the youth of Wilmslow.
I am a extremely active Member of Wilmslow Dean Rotary and all the community involvement which it carries out, which includes schools, youth organisations both in and out of uniform and not forgetting the various more senior adult groups. I Chair the annual Scarecrow Festival and children's parade which has now grown to be a major event within the town with approximately 500 taking part in last year's parade. This also helps assist the Library with the National Summer Reading Challenge as the Parade now commences at the library entrance and many children while waiting for the parade to start go in to the Library and sign up to the challenge.
I am also a member of the Wilmslow Business Group and this helps me keep in touch with the business community throughout the town and represent the town council in several organizations. In fact I am so active on a day to day basis it makes retirement a joy and hardly leaves time for the crown green bowls team that I am a member.
How long have you been a councillor? Why have you decided to stand for the Town Council and Cheshire East Council?
I enjoy being a very active town councillor (a non paying position I might add) over the last 4 years and a member of a group of like minded people who wish to focus on what we can do for the town and its residents.
What do you think have been your biggest achievements as a councillor in the past four years?
I feel that it is wrong to claim any achievement as an individual achievement as little is achieved by being an individual member. However I am happy to say that I have helped achieved through our support and involvement bringing the Rex cinema back which included a major grant towards the lift to give easier access for disabled people, the new toilet block and kiosk, the outdoor adult gym equipment, the picnic benches to the Carrs and through the use of the town council appointed handyman the complete refurbishment of the traditional red telephone box outside the Unicorn as this had become an eyesore to those entering Wilmslow Dean Row from that direction.
It is rewarding to see how well the cinema on the Carrs is been appreciated by the people we represent and the 12hr+ working day is worthwhile. Christmas 2018 saw us move the Christmas lights switch on and Santa Claus's appearance to its new location and timed it to coincide with the artisan market as we believed this would enhance the event and I am pleased to say that from the number of people I spoke to on the day it was a very successful move.
What have been your biggest disappointments as a councillor in the past 4 years?
It came as a disappointment to find that on joining the town council how slow the wheels of local government can sometimes turn and being of a proactive nature both in business and personally I have found it hard to understand why this is so even after 4 x years.
What do you consider to be the important issues facing Wilmslow?
Parking is clearly a major issue, however it is not within our powers although we actively try to influence this.
We need to continue focus on the town centre, for although it is good to see the empty units start to have tenants once more we are still a long way to being the Wilmslow I remember as a wonderful environment in which to shop but we will get there once more.
The number of new houses is a concern as it will put pressure on our infrastructure such as roads, schools, doctors etc and whilst we are not able to wave a magic wand to solve this, please be assured that we will keep up the pressure to ensure that they are considered as we as a team of all town council members ensured that we will receive funds from the New Homes Bonus Scheme set up by national government to ensure local communities get some benefit from large scale housing development.
What do you hope to achieve in the next 4 years?
I am proud of what I have achieved in the last 4 years and having gained knowledge and experience of what works and what takes a little longer, I will not be finding my feet of the realities of local government and will continue with the issues not yet resolved.
I am a member of a wide range of sub committees an example is the Finance Committee where part of its duties is to interview local groups applying for financial help. One particular group was the In It Together group who needed financial help to set up the Wilmslow Dementia Café which would help give with respite to their carers and also recreational help to those with dementia and I am delighted to say that counsel agreed with our recommendation. l was so inspired with this group that I recommended it to Rotary and I am delighted to say that a substantial amount of our Christmas fund raising event was also given as further assistance to the group
What experience and personal qualities will you bring to the role and why should the residents vote for you?
As I mentioned earlier I am a very proactive person and through many years at all levels business and dealing with people be it within a business environment or otherwise, I believe that I am able to use this experience to the role, I am reasonably well known throughout
Wilmslow in the shops and businesses and people in general know that I am easy to approach if they have a problem as at some point over the years they have met me through my various activities.