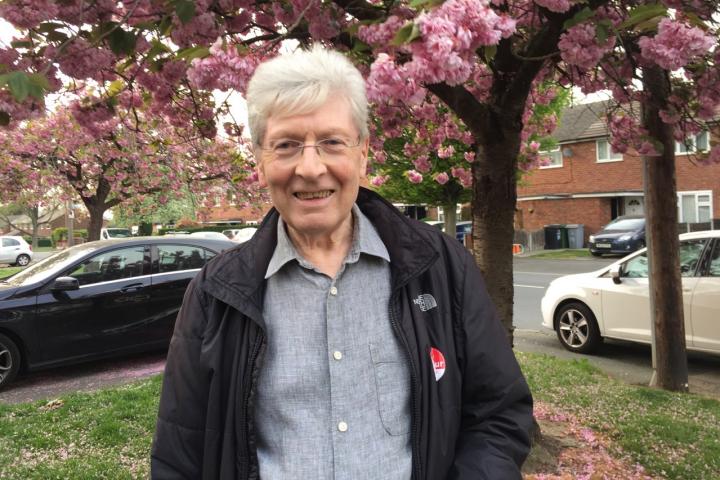 In the run up to the local elections on May 2nd I am publishing brief interviews with each of the candidates - standing for seats on both the Town Council and Cheshire East Council - that respond to my request, in the order in which they respond.
To read interviews with other candidates you will be able to click on the tags at the bottom of the article. For example, pieces on the other candidates for the Wilmslow Town Council election will all be tagged 'Wilmslow Town Council 2019 Election'. Candidates representing the same party or group will also be connected via the tags, candidates competing in the same ward will be connected by tags as well and all articles will be tagged '2019 Local Elections'.
Paddy Maguinness is a Labour Party candidate for the Lacey Green ward on Wilmslow Town Council.
Paddy Maguinness is 69 years old and lives in Handforth, having lived in Wilmslow on and off for about 40 years. He is now retired having been a self-employed car valet. Previously he worked in production engineering, spending much of the time working on contracts in Germany and in the Irish Republic.
Are you a member of any local groups or societies?
I belong to a local canoe club to keep fit, to enjoy the beautiful Cheshire countryside and to mix with a wider variety of people and hear other viewpoints. I am lover of all things French and travel there when time and funds allow. I belong to a French language society. My French needs all the help it can get.
Have you stood for election before and why have you decided to stand for election as a town councillor for Wilmslow?
I have never stood for and election before. I decided to become involved in the local Labour Party because, I, like many others spent too long being defeatist about Labour's chance of winning a seat in Wilmslow. I think now is the time when we can and must win in Wilmslow. It can no longer be said that "they're all the same" The Tories really are 'the nasty party".
Under the guise of balancing the books the Tories have systematically set about the dismantling the state. The Tories have chosen for us a society full of potholes, food banks and people sleeping in doorways.
All of the building blocks of a fair and stable society are being dismantled. The list is long. They have closed libraries, care homes, schools, police stations, hospitals. They have sold off playing fields and youth clubs and homes. These are not costs, they are investments in training and infrastructure. We made the investments in the past, investments in training and science and in education. We invested in infrastructure for roads, bridges, canals and railways. We were the workshop of the world, we made the first industrial revolution. The Tories will invest in nothing they are taking us downhill fast to a bargain basement country.
I have decided to stand as a Labour councillor because Labour has a vision to invest in a bright future for the many not the few. They will invest in funding for schools, provide training for the skills needed for the forth industrial revolution which is bearing down on us. They will protect the NHS from privatisation and invest in provision for mental health. Labour will meet the challenge of homelessness by building more council homes and working to identify better ways to support people with mental health issues or addiction problems. I believe Labour will create new wealth to pay for these services by recognising the huge opportunities offered by the new green technology.
What do you consider to be the important issues facing Wilmslow?
Lacey Green and Styal has sometimes been called 'The forgotten Ward'. It certainly has been forgotten by the Tories. The bus services been cut. Youth facilities have also been cut leading to an increase in antisocial behaviour and crime. Cheshire East is one of the poorest funded councils for education. Lacey Green Primary Academy lost out on £395,722 and Styal lost out on £101,025. The local Labour team have been asking local residents since July 2018 what matters concern them most. We heard that the development of unaffordable housing on a greenfield sites was of concern, particularly since it further contributed to congestion on already crowded roads. Local residents were unhappy at the state of the roads generally and the lack of safe parking particularly outside schools. The dependance on cars is exacerbated by cuts in public transport. This has caused hardship for many, particularly elderly residents. Residents are concerned by the privatisation by stealth of social care service and cuts to mental health provision. Residents do not believe that these concerns will be adequately addressed by a Tory council which is facing eight criminal investigations.
What do you hope to achieve and how in the next 4 years?
Over the next four years I would like to create a culture in the Lacey Green and Styal ward that Labour councillors are a dependable and a reliable source of help in their dealings with local government. Over that time I hope to become a new voice and a source of fresh ideas. My job as a councillor is to restore the trust in local government which has been squandered by the Tories. Most importantly I will work to ensure better funding for children whether this is for education, special needs or children's centres. I will work to improve quality of social care and mental health, taking the pressure off the NHS. The provision of affordable housing is a matter of urgency and will indicate that we are serious about making Lacey Green and Styal happier and greener place.
Why should Wilmslow residents vote for you?
I believe that the people of Lacey Green and Styal should vote for me because I have chosen to live most of my adult life in the area and now as I have grown older I have returned because I appreciate what a safe, pleasant place it is. I want the people to vote for me because I want to make it a fairer place for everyone. I want the opportunity to deliver the changes needed to make Lacey Green a great place to work, live and a place to call home.