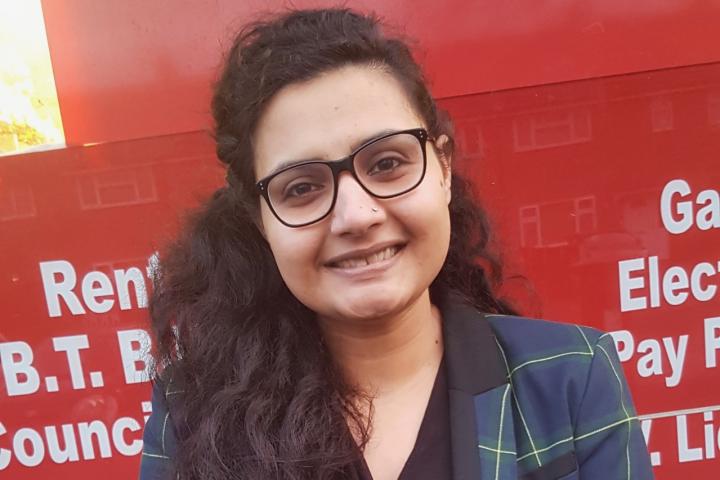 In the run up to the local elections on May 2nd I will be publishing brief interviews with each of the candidates - standing for seats on both the Town Council and Cheshire East Council - that respond to my request, in the order in which they respond.
To read interviews with other candidates you will be able to click on the tags at the bottom of the article. For example, pieces on the other candidates for the Wilmslow Town Council election will all be tagged 'Wilmslow Town Council 2019 Election'. Candidates representing the same party or group will also be connected via the tags, candidates competing in the same ward will be connected by tags as well and all articles will be tagged '2019 Local Elections'.
Ribia Nisa is a Labour Party candidate for the Lacey Green ward on both Wilmslow Town Council and Cheshire East Council.
Ribia is 27 years old and has been living in Colshaw Farm, Wilmslow, with her husband for the past five years. She grew up in Bolton and later moved to Oldham although she is originally from Pakistan where she says it was a struggle for a girl to receive an education.
Ribia told me "Girls going to school was often actively discouraged and considered unnecessary in my community but, with my mother's support, I was determined to do well in school and be able to decide my own future. I believe strongly in equal opportunities for all and my early experiences of discrimination made me even more determined go on to higher education and study Law."
She currently works for the Information Commission Office on Water Lane in Wilmslow and before that she worked for Slater Gordon solicitors in Manchester.
Are you a member of any local groups or societies?
I enjoy spending time with my family and exploring the countryside around the local area. I belong to a number of societies and clubs which take up much of my time and I enjoy the feeling of working towards a common purpose. Belonging to groups such as Transition Wilmslow, Plastic Free Wilmslow and the Wilmslow Energy Group shows my concern for the environment in our own community but also in the wider world. However small our contribution, whatever we do makes a difference.
I am heartened to see the many self-help groups which have sprung up in the ward I wish to represent. I was privileged to be invited to see the work of Wilmslow and District Furniture Recycling which offers hope to young people in Lacey Green. Furthermore, Earlams Community Café in Styal, which is run by volunteers (including myself on occasion ), has gone from strength to strength and is an example of just how much we can achieve by working together to improve our community.
Why have you decided to stand for election as a parish councillor and ward councillor for Wilmslow?
As a Labour supporter and candidate, I am motivated to promote our policies which ensure the benefits of the wealth we produce are enjoyed by the many and not just the few. I have supported 'Hampers of Hope' but I am appalled to see the necessity for food banks in some districts as a result of Tory austerity policies which have hit the most vulnerable members of our community the most. Wilmslow is an affluent area but there are families in some wards who do not share in this wealth. Many families who work hard holding down two or more jobs still need to claim income support.
Have you stood for election before? If so, when and for which party?
My involvement in charity projects and community schemes is important to me but I believe local and central government have even more power to change people's lives for the better. I have never stood in an election before other than as a student representative, but I now feel it is the time for me to stand up and be counted.
What do you consider to be the important issues facing Wilmslow?
The issues currently facing Lacey Green and Styal are those facing most councils across the country that have been starved of funding during the austerity years; local schools coping with reduced budgets in real terms, the poor state of our roads; public transport cuts isolating villages like Styal; and a lack of facilities for the young. Poor planning decisions have led to unaffordable housing estates springing up in Lacey Green and the surrounding areas, offering no hope to young couples hoping to get on the housing ladder.
I believe by standing for election together with other Labour candidates across Cheshire East, I have a real chance of making a difference by belonging to the party fighting to win a majority of seats on the Council. Only the Labour Party has a chance of dislodging the current discredited Tory administration. Only Labour fought the cuts to the bus service in our area and only Labour will fight to restore funding to our schools.
Why should Wilmslow residents vote for you?
When I started on this journey as a candidate for the Lacey Green and Styal ward in July 2018, I was determined to meet as many residents as I could. To this end, I embarked on a listening campaign by visiting every household in the ward every week over a period of six months. I attended both Town Council and Parish Council meetings in Wilmslow and Styal to find out which issues were concerning residents the most. I believe people have come to know me as someone who is enthusiastic, approachable, caring and keen to represent their views at Council level. I am currently Chair of Tatton Constituency Labour Party and I have represented our constituency at regional and national conferences. I believe this shows I have the confidence to speak up for my residents in the council chamber.
What do you hope to achieve and how in the next 4 years?
It's easy to make promises that sound good but cannot be kept. What I can say is that my hopes and aspirations for the area in which I live can be best delivered through a Labour-run council. I am sure we can restore the trust that has been lost by ending the culture of bullying at East Cheshire Council and working with unions to support the staff. Furthermore, Labour has a real chance of winning a majority in Cheshire East on 2 May and in doing so will be able to offer a fresh start and a message of hope. Labour will deliver the changes needed to make Wilmslow and Cheshire East a great place to live and work. This includes:
Fighting for better funding for our local schools and increased provision for children with special needs.
Reviewing the cuts made to local bus services.
Protecting Children's Centres from reduced funding by the Tories.
Improving the quality of social care by ensuring that quality and delivery of social care are delivered by the council. The cuts to mental health provision are scandalous and there must be increased funding for this service from the council and the NHS. Labour will ensure there are no further cuts to council services and we will put mental health on a par with physical health.
We all know the problems experienced on our roads and I am acutely aware of the potholes, speeding traffic and parking issues affecting Lacey Green and Styal. Therefore Labour will ensure proper road repairs and maintenance and review expensive outsourcing for repairs. We will promote and develop safe cycling routes and seek solutions to improve the parking situations on residential streets.
Whatever the outcome, I feel privileged to have been chosen as the candidate for Lacey Green and Styal in Wilmslow and will do my best to represent the people in my area should I be elected on 2 May.