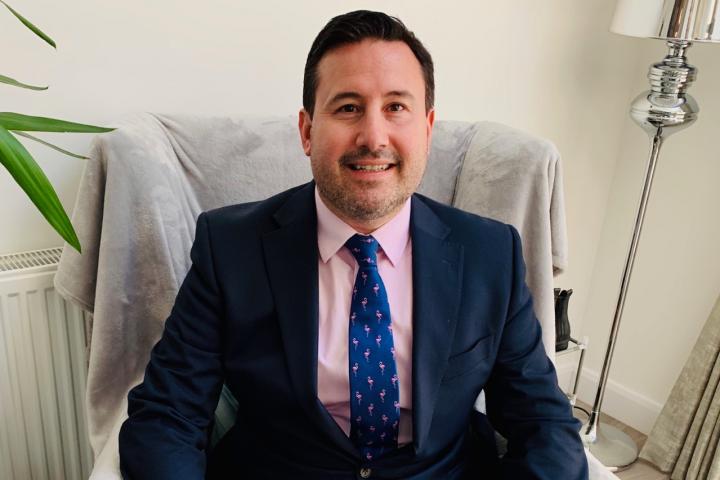 In the run up to the local elections on May 2nd I will be publishing brief interviews with each of the candidates - standing for seats on both the Town Council and Cheshire East Council - that respond to my request, in the order in which they respond.
To read interviews with other candidates you will be able to click on the tags at the bottom of the article. For example, pieces on the other candidates for the Wilmslow Town Council election will all be tagged 'Wilmslow Town Council 2019 Election'. Candidates representing the same party or group will also be connected via the tags, candidates competing in the same ward will be connected by tags as well and all articles will be tagged '2019 Local Elections'.
Steven Greening is a Conservative party candidate for the Lacey Green ward on Wilmslow Town Council.
Steven has lived in and around the Wilmslow area all of his life and on marrying his wife Louise decided to set up the family home here.
He is a Management Consultant who has worked with multiple large blue chip companies across finance, retail, utilities, aerospace and defence sectors holding senior management positions at companies such as Barclays, Accenture, United Utilities and BAE.
Steven is a keen sportsman and has participated for both football and cricket teams in and around the Wilmslow areas all of his adult life. His claim to fame is he once had the pleasure of singing with Take That, they were performing live on the radio and Steven was at home in the bath!
Why have you decided to stand for election ward Town councillor for Lacey Green?
My wife works in the Lacey Green area and in the last couple of years I've noticed that there has been a decline in and around the area. I was in dialogue with the Conservatives around some wider points about the town and I was approached directly to stand in the area as the party felt I could make a difference to some of the current challenges.
Have you stood for election before? If so, when and for which party?
This is my first time standing at an election although I have been a keen follower of politics all my life and my principals have always aligned to the right of centre which by default should identify me as a Tory. I share with many the frustration at the current situation within Parliament at national level and this has fuelled me to get more actively involved. The good news is there is no party whip at local Town Council level and it is important to separate the two, Local politics and national politics as the objectives are different. I intend to use my skill set in serving the town for the benefit of the community, but I am also not afraid to challenge at a higher level if required.
What do you consider to be the important issues facing Wilmslow and Lacey Green? ​
I am passionate about supporting local businesses and ensuring they thrive through opportunity and the dependencies around making this happen align to foot fall and appropriately priced rental units. The challenge around providing appropriate town centre car parking and ensuring there are no empty units in the shopping areas are key to ensure Wilmslow remains vibrant.
I also think the increase in anti-social behaviour and youth violence is a concern that needs addressing. It's important to tackle both the root cause of the problem and provide appropriate support and deterrent. I have spoken to a number of local residents around this issue and there are definite opportunities for improvement in this space.
What do you hope to achieve and how in the next 4 years? ​
I think I can bring drive energy and enthusiasm to the role. The most important part of communication is to listen and observe. I recall reading a quote from one of Wilmslow's most famous residents Sir Alex Ferguson in his book on leadership whereby identifies that the body senses of which you have two of, eyes and ears are the most important. I think that is a great observation, these two senses give you the data to make decisions and implement change. It's important to really listen to the community and be a 'Champion of Change' for the better. It's also important to keep your eyes open and observe what is happening within the local community and town centre.
What experience and personal qualities will you bring to the role?
As a Management Consultant my day job involves working with companies to make a difference and improve the existing situation. This aligns with the requirements of a town councillor. The skills I have previously mentioned will ensure I can make a difference, I chair and contribute to meetings every day. It's really important that every meeting is objective and outcome driven to ensure progress. I will be a strong voice in ensuring this happens and keeping people both accountable and honest.
It's also important to manage people's expectations, with an endless pot of money everything can be addressed but that is not reality. Priorities have to be established and again I am skilled at laying down some principles on which to prioritise and then ensure this gets played back accordingly to the community. People may not agree with every decision but if they are informed of the why then at least they have context.
In the past I have been involved with the homeless and working with them to provide some basic life skills to help them get into the work place. I am a strong voice and have a questioning personality, I want to understand the why so I can suggest a potential solution. I'm also not an individual who picks the path of least resistance, I choose what will be right for the greater good. I believe these skills and experience will inject some focus and ensure Lacey Green is a front runner in local decision making.
Why should Lacey Green residents vote for you?
Firstly it's an honour to stand in these elections and have the opportunity to potentially represent the people of Lacey Green. I am a person who actively embraces change and will strive to ensure Wilmslow becomes an even better Town to live in.
I possess a high level of integrity and want to do the right thing to ensure the local community will benefit. I see lots of opportunities and efficiencies which can be leveraged and hope to secure a seat in order to be an active player who will make a difference.