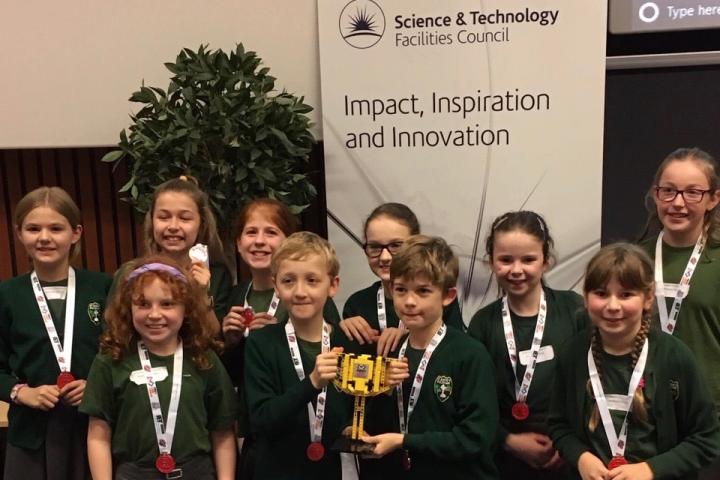 Ten students from St Anne's Fulshaw CE Primary School attended the Institution of Engineering and Technology's First Lego League UK and Ireland Final on Saturday 16th February in Bristol.
The science and technology challenge, which is aimed at 9 to 16 year olds, tasks teams to build a robot to tackle a series of missions, and create an innovative solution to a real world problem.
This year's Into Orbit challenge, which was all about space and how humans survive for extended periods in this environment, was largest to date with over 500 young people attending - all of whom were all keen to demonstrate their skills in robotics, computer programming, teamwork, research, problem solving and communication.
Having been overall winners in the regional competition, and winners of the robot competition, unfortunately the St Anne's team weren't placed in any of the categories at the final but thoroughly enjoyed the experience.
Mandy Workman, League Education Manager, said: "First Lego League allows young people to experience engineering in action. As well as bringing excitement to STEM subjects, the students get hands-on experience with robotics, and designing innovative solutions to real world problems. Developing computer programming, teamwork, problem-solving and communications skills has never been so much fun and gives students an insight into the creative and innovative careers that engineering presents.
"There is a great need for young people with STEM skills to fill the next generation of engineering roles and we are excited to see such bright young engineering minds in First Lego League."
Mrs Penny Thomas, Deputy Head and mentor to the Lego team said, "I am so proud of the dedication and hard work of each member of the team, who have stayed late after school twice a week, every week since October, and fully deserve their place in the final. I am particularly thrilled that we have 8 girls in the team of 10, and am proud of their commitment to STEM. We love learning interesting new things in our school, and every child in Year 5 and Year 6 has had chance to design, build and code a Lego Mindstorms robot before the team for the competition was chosen.'
The school has entered the tournament for the last three years and made it to the finals in two out of those three. In both the regional and national finals, primary age pupils compete against secondary pupils as there are no separate age categories.