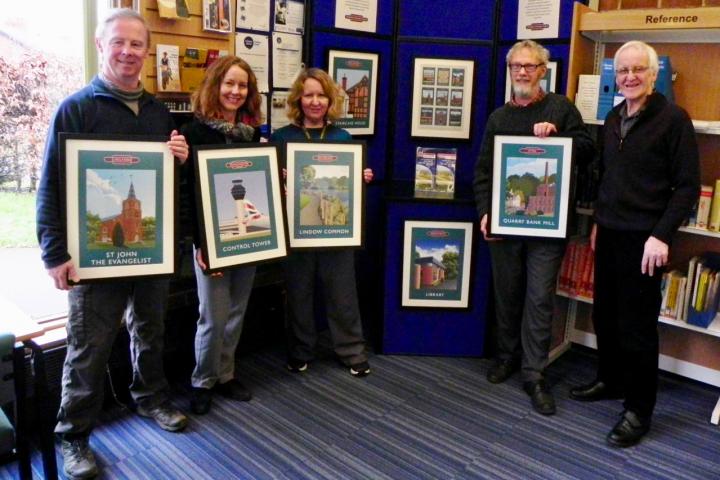 The latest exhibition on track for the Friends of Handforth Station's "Platform for Art" has been diverted and is now on display at Handforth library.
Steve Forde, Project Officer for Crewe to Manchester Community Rail Partnership explained, The Station Connections art project was instigated to highlight the wealth of history and interesting locations that exist along the line. Rather than focus on stations we wanted to look into the communities that the stations serve, to encourage residents to look locally for places of interest to visit."
Debbie Wood from Handforth Library added,"We love working with Friends of Handforth Station, most recently on the Handforth Rocks children's art project. We are thrilled that Eamon Murphy included Handforth library in one of his artworks."
Mike Bishop, Founder of FoHS concluded " The exhibition will again be diverted to St Benedict's Hall, Monday evening 11th February when the exhibition will be on display at the Annual Open Meeting, starting at 7pm with tea, coffee and biscuits.
Friends of Glossop Station's Neil Williams, the national ACoRP Volunteer of the Year will be the guest speaker. Join us to hear more about our art projects, progress on the bid for lifts to provide Access for All to the platforms and the proposal for a station car park between St Benedict's and the youth Centre. Bring you questions and suggestions. All welcome."
After the meeting, the exhibition will return to the library until Saturday 16th February after which it goes on tour along the line.
Photo by Roger Small shows Steve Forde, Friends of the Station, and library staff with part of the exhibition at the library.