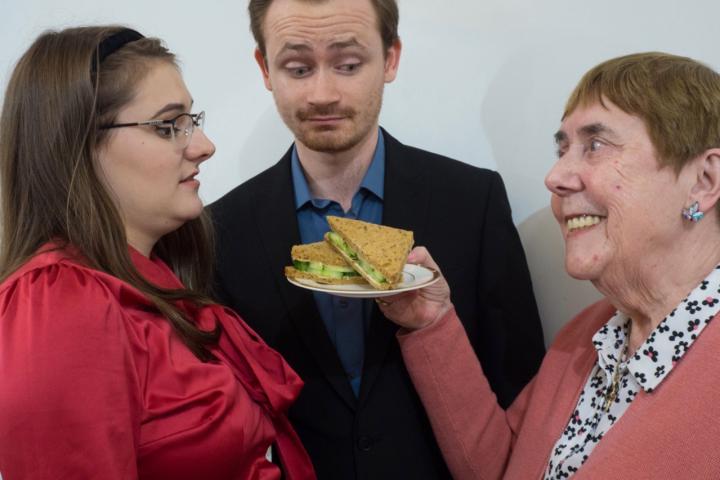 Wilmslow Guild Players' next production is the light-hearted comedy "Lunch with Mrs Baskin" by Sam Bobrick.
The play focuses on Mrs Eva Baskin, a retired widow who continuously sets up appointments with sales people solely to have lunch and conversation with them in her home.
Two young people, garage door salesman Terry and Kira who sells solar panels, accidentally meet in Mrs. Baskin's apartment. Although neither has the slightest intention of getting personally involved, Mrs. Baskin has other plans!
The play is being directed by Mandy Hill, a new member of Wilmslow Guild Players.
Mandy said "I was asked by Wilmslow Guild Players to direct a play and after reading about four pages of this one I was chuckling to myself and thought what great content and dry humoured wit! It is so entertaining!"
She added "Basically the play is about bringing a new sense of direction to each of the characters' lives," continues Mandy. "Mrs Baskin wants to not feel so lonely. She is in search of company and needs to fill a void in her socially lost world. She thinks by having a ready supply of cucumber sandwiches she can cajole her new found business acquaintances and friends into staying longer and forming new friendships."
"Mrs Baskin is definitely my favourite character, I admire her for her clever sense of survival and finding solutions to her loneliness. I think she is brave, funny and endearing. Underneath she has a very selfless nature and wants to bring happiness to others and of course for them to enjoy her favourite sandwiches!"
Committee member Bill Beton said "We love the flexibility that we have in the Guild Theatre. It allows us to move the layout of the seating to suit the play. In this one the audience will be on all sides, which gives a great relationship between the cast and the audience."
"Lunch with Mrs Baskin" runs from 31st October to 3rd November at Wilmslow Guild on Bourne Street. Tickets cost £8.00 (£6.00 on Wednesday) and can be booked online. Alternatively tickets can be booked by calling 01625 520126 or emailing.
Photo: Mrs Baskin (Grace Reed) offers hospitality to Terry (Ryan Fannin) and Kira (Alice Hope).
Tags: