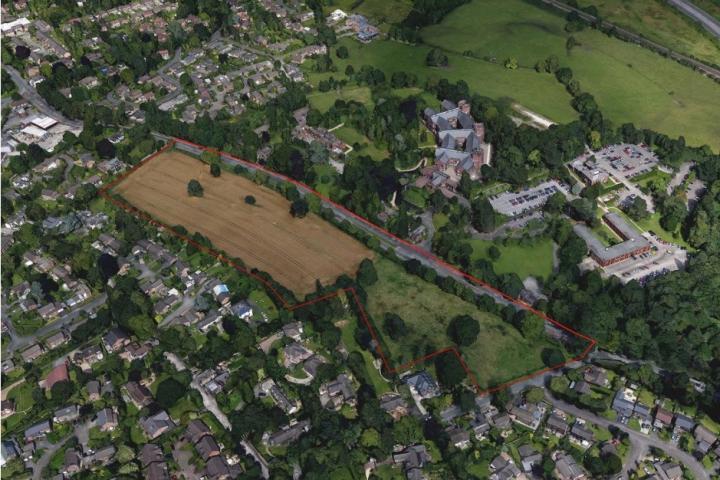 Campaigners are preparing to take legal action after Royal London was granted planning permission to build around 180 new homes on former Green Belt land in Wilmslow.
The company sought outline planning permission to build 60 homes on a 4.45 hectare parcel of land located west of Alderley Road, which they own, and 120 dwellings on the northern part of their campus - between Alderley Road and the West Coast Main Line.
Both sites were released from the Green Belt in order to assist the Council in achieving a five year supply of housing and were allocated within the Local Plan for residential use. The Royal London campus site is also allocated for the provision of 5 ha of employment land and a hotel.
Nine members of the Strategic Planning Board voted in favour of the first application for land west of Alderley Road at their meeting on Wednesday, 28th March, whilst two voted against (independent councillors Toni Fox and Barry Burkhill) and one abstained.
Manuel Golding of Residents of Wilmslow (RoW) said "All arguments against the application were widely ignored, including the high number of builds and planning approvals that RoW submitted. We are bang up to date which CEC's planners are not. In fact we supply them our figures."
The campaign group are now preparing to take legal action over a Restrictive Covenant which they believe prevents development from taking place on the field west of Alderley Road.
Manuel added "My parting shot to the committee was, if they vote for the application they will be wasting their time as they can be assured that there will be no development. Our counsel is preparing injunctions. It will be up to the Higher Tribunal (land court) to decide. But the councillors were not interested, except for the two voting against."
He continued "Royal London is not interested or concerned about the covenants, I feel it believes it can simply swat these aside. So the fight must move to the next stage via the courts."
The Strategic Planning Board voted 8 for and 4 against the second application for 120 new homes on their Alderley Road campus.
Councillor Toni Fox said "Cheshire East Council forecasted a requirement for an 900 additional houses in Wilmslow during the period of the recently approved Local Plan - 2010 to 2030. To date 1185 new houses have planning permission in Wilmslow.
"Despite pointing this out to members of the Strategic Planning Board the Conservative majority of members of the Committee approved both outline planning applications for a total of up to 180 new houses.
"Whilst S106 contributions to Education and Health provision will be secured, as with other recently approved developments in Wilmslow, there are no timescales for the increase of provision that will be required.
"Local residents I believe have just reason to be profoundly angry and upset with both the Council and Royal London that the site was removed from the Green Belt under the thinly disguised threat that the Company was looking for alternative premises.
"Not only is Royal London leaving the site but it will do so with a far healthier profit than it would have.
"As is now being demonstrated residents and those responsible for providing public services will be left with the fall out from a very short sighted decision by the Council where residents opinion was clearly ignored."
Manuel Golding added "Hardly anyone picked up on Royal London's strategy of applying for "outline" planning permission. In effect this would be a blank cheque for Royal London. The value of its sites will have increased by millions yesterday when it comes to selling them to developers.
"There was no development need for "outline", it is a simple value enhancing ploy but our councillors are either economically inept or.... - the committee should have refused with the proviso to come back with real plans. But Royal London wishes to sell the site and for a buyer to submit its own plans.
"All in all, local democracy once again lost out yesterday."
Wilmslow Town Council's Planning Committee recommended refusal of both planning applications.
Representations were also received from 86 properties in relation to the site west of Alderley Road and 72 in regard of the Royal London campus plans.
The main points of objections were about the impact of the proposal on highway safety and an increase in traffic in an already congested area; too many access points along Alderley Road; loss of an open field, loss of trees and hedgerows, increased risk of flooding and lack of capacity in local schools, doctors and dental practices.
In support of the proposals people welcomed the provision of affordable housing within the development and the increase in footpath and cycle routes and felt that the local housing market is too constrained.