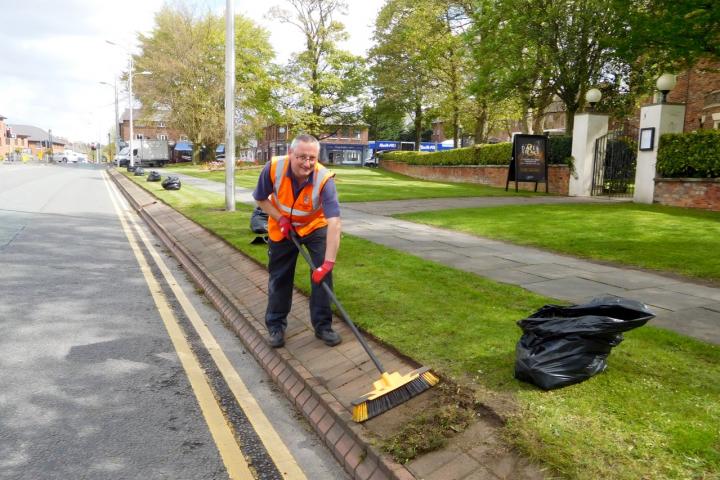 Wilmslow Town Council has decided to increase the number of days which the handyman they employ works.
The Council started trialling the services of a handyman early in the year to enable them to be more proactive in clearing up problems in the town - such as litter picking, repairing street furniture, cleaning pavements, removing graffiti and picking up leaves.
Initially they agreed to take Paul Redwood on for one day a fortnight on a trial basis until the end of April, then - because it was working well - they increased the arrangement to one day a week over the summer months.
At the Town Council meeting on Monday, 20th November, councillors voted unanimiously to increase the level of service to one day a week throughout the year, rather than one day a week during the summer months and once every fortnight during the winter months.
Town Clerk Matthew Jackson said "When we set it up we expected there to be more work in the summer than there is in the winter but what's actually happening now is he is backing up a lot of jobs because he is actually only working two days a month."
Councillor Frank McCarthy said "Initially we weren't too sure about how this was going to work out but as we know this has been one of the great success stories of the Council and the impact it has had has been quite out of the kilter with the amount that has gone into it. It has been one of those good things.
"When we started it, we said we would try it out to see how it went. Now we know how it is going and we've heard this is the time of year when things are building up, obviously it makes a lot of sense to actually make sure the handyman is there and can carry on with the jobs. They're only little jobs but they are important little jobs that people notice and can make a big difference to them."
Councillor Viveene Brooks commented "I think it's a good idea as he has done lots of good work so far and I am sure there will be a lot more."
This means that Mr Redwood will work an extra 13 days at a rate of £120 a day so the additional cost is £1560 and the total cost for a year, if the Town Council decides to continue with this arrangement, will be £6240.
The Council agreed to review the service in six months time.
Tags: