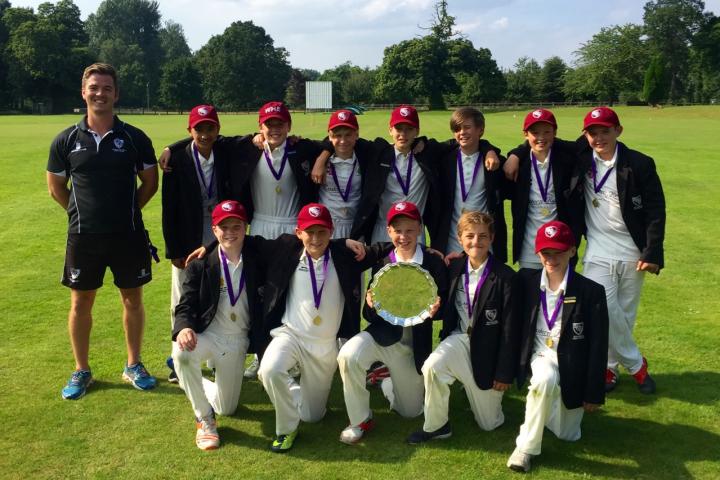 Last week saw the culmination of a fantastic season for the U12 cricket team. On Tuesday they reached the final of the Cheshire "Wallington" Plate after beating Sale Grammar by 69 runs. WHS 135 – 1 from 20 overs (C Hodge 57*, T Wilson 47). Sale Grammar 66 all out from 19.2 overs (W Espley 3 wickets for 11 off 4 overs)
The boys didn't have to wait long, with the final played the next night against the Grange school. With Grange losing the toss, Wilmslow skipper Harry Whitmore elected to bowl first at Alderley Park Cricket Club. Wilmslow, quite literally, dominated from ball one: Ben Hamilton-Ryan opened the bowling and claimed a wicket with the very first ball of the match! From the other end, Will Espley started in similar fashion, taking a wicket in his first over. Wickets kept on falling as the pair continued to bowl tight lines. Ben finished his spell with one wicket for one run from 4 overs, Will finished with outstanding figures of four wickets for 2 runs from his four overs.
Grange's number four bat showed some resilience, scoring 20 runs. However, in the 16th over Toby Hull's off-spin proved to be too difficult for the batsman to play, claiming three wickets in one over. Harry Jenkins claimed the final wicket; the Grange finishing with 41 runs on the board. Tom Wilson and Charlie Hodge looked in great form, getting WHS off to a typically quick start. Tom was undone by a great ball that clipped the top of his off-stump with Wilmslow having 20 runs on the board. Ben Hamilton-Ryan began to forge a great partnership with Hodge. However, when the pair went for a single that wasn't on, Ben was left red-faced as Charlie was run-out and back in the pavilion. With only five runs required, Max Davidson scampered through two singles and hit the winning runs with a boundary.
Man of the Match: Will Espley for his 4-2 from 4 overs.
If that wasn't enough, on top of his fantastic performances for school, Ben Hamilton Ryan has won 'Cricket World's Performance of the week' for his incredible, match winning performance against Wales where he took 7 wickets for 18 runs! An amazing achievement for Ben and well deserved and thank you to everyone who voted.
Match report by Rob Herriott.
Tags: