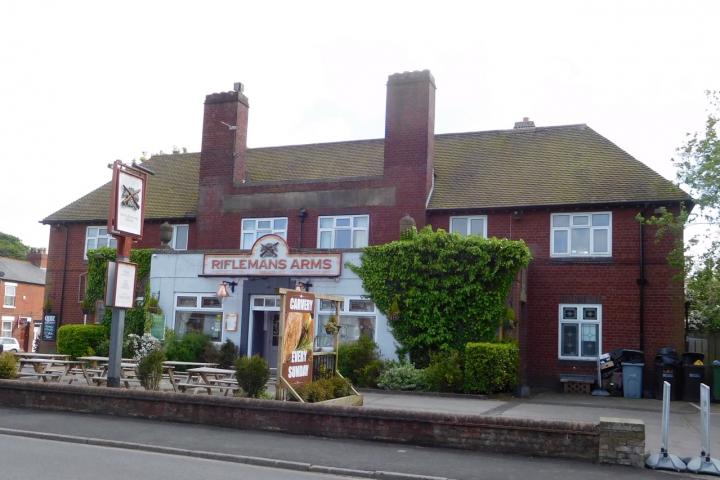 Plans to demolish a public house and replace it with a residential development will be determined by the Northern Planning Committee next week.
New Moor GB Ltd is proposing to replace The Riflemans Arms on Moor Lane with 8 dwellings, consisting of two blocks of 4 mews houses - which will be two storey with three bedrooms on the first floor and a master bedroom in the roof space. Each property will have two parking spaces, located in a small parking court to the rear, and a private garden.
Councillor Gary Barton requested that the application be determined by Northern Planning Committee stating "I believe that there is a public interest case to be heard as this application will result in the loss of a local asset. The application will also increase parking problems in the area as it will result in the loss of off-road parking spaces currently in use on the site."
Wilmslow Town Council recommend refusal of this application on the grounds of overdevelopment of the site and being out-of-keeping with the streetscene and that the proposed buildings will be overbearing on neighbouring properties due to their height.
The Council received 7 letters of objection on the grounds of: over-development of the site, overlooking of properties on Moorfield Drive, the properties are too high, development not in character with the surrounding area and off-street parking for existing residents will be lost.
The Planning Officer is recommending the application for approval at the Northern Planning Committee on Wednesday, 12th July.
Amongst the reasons he states are that it is a previously developed site located in a highly sustainable location; the scale of the development reflects the character and appearance of the area and the development raises no issues in respect of highway safety, residential amenity, flooding, noise, or ecology.
The plans can be viewed on the Cheshire East Council website by searching for planning reference 17/2236M.