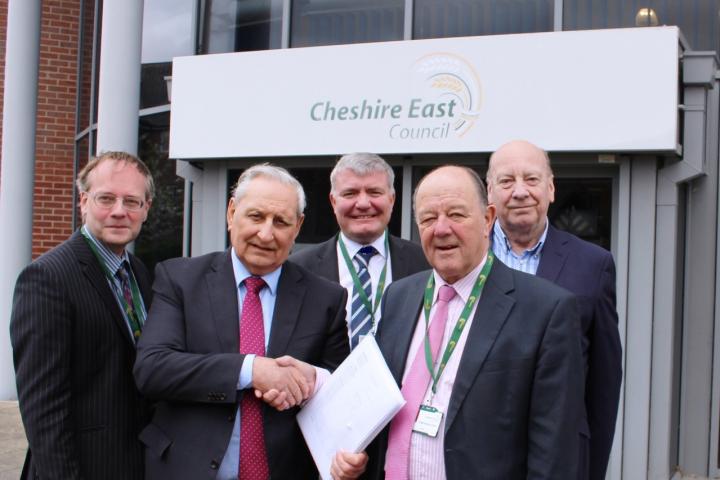 As reported earlier this week on wilmslow.co.uk, a new bus service running between Wilmslow and the Handforth Dean retail park is launching later this month.
The commercial service will launch on Monday, 24th April, and will operate from Wilmslow's Bank Square, through Lacey Green and Handforth from Monday to Friday only.
The new service will be operated by D & G Bus, will run approximately hourly from 8.14am until 5.57pm and will carry the same route number of 378 as the previous service operated by Stagecoach.
It is the first service to run directly to and from the retail park and Wilmslow.
Cheshire East Council Deputy Leader David Brown said: "I would urge our residents to take advantage of this service as it is vital that it continues, and provides a lifeline for a large number of people who do not have access to a car, who may feel isolated living alone or who need a regular bus service for local schools.
"Buses are also an excellent form of green transport and we would like to urge car users to think about switching to this and other services if it is feasible for them to do so.
"We are conscious of the widespread concern expressed over the withdrawal of the previous service but it must be emphasised that the council cannot interfere with the commercial decisions of private operators.
"Reports that the previous service was withdrawn because of a cost-saving measure by this council, were completely untrue.
"I would like to thank Handforth and Wilmslow town councils for the hard work they have put in to get this service introduced, even though it is only on a trial basis."
Chris Almond, bus network manager for D & G Bus, said: "We are going to run an entirely separate service called the 378 because that's the number residents recognise and know.
"The D & G service is a commercial route and will provide a link for many elderly people to use their usual community facilities and also a new direct link between the shopping complex at Handforth Dean and Wilmslow town centre.
"But it must be stressed that this will run for a trial period only, although we hope that there will be sufficient patronage for it to continue."
The timetable can be seen at Handforth and Wilmslow libraries or online.
The Stagecoach 378 service will no longer operate in Cheshire East from April 23rd but will terminate at Grove Lane on the Stockport border.
A spokesperson for Stagecoach Manchester said: "Falling passenger numbers on the 378 service means it has become no longer sustainable for us to continue to run this service on the section of the route between Grove Lane, Stockport and Wilmslow. We apologise to our customers who are affected by this change."
The Stagecoach 378 service was last part-subsidised by Cheshire East Council in 2012 for the evening service only. The decision to stop subsidising it, at a cost of £23,156 per annum, was taken by the Cabinet in October 2012. At the time they approved a proposal to reduce or withdraw funding subsidies for bus services supported by Cheshire East Council, resulting in a saving of £750,000 per annum.
Photo: Councillor David Brown receives a petition of more than 3,700 signatures signed by residents calling for the No. 378 bus service to be supported. Left to right: Cllr Glen Williams, Martin Watkins, Wilmslow Town Council, Cllr Don Stockton, Cllr David Brown and David Pincombe, Wilmslow Town Council.
Tags: